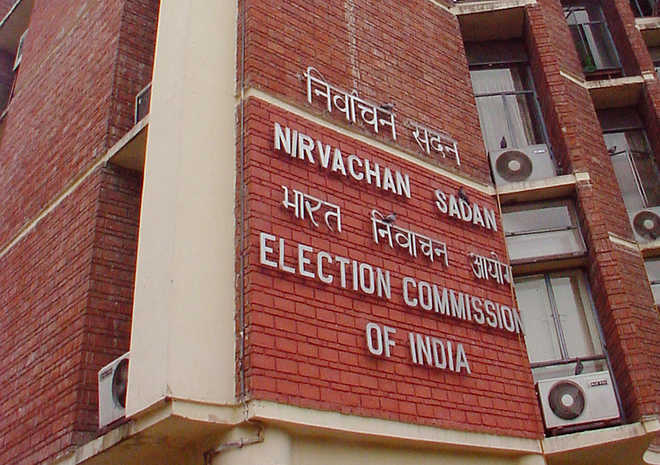 Ruchika M. Khanna
Tribune News Service
Chandigarh, April 21
The electoral process in Punjab for the 13 Parliamentary seats will begin on Monday.
The Election Commission of India will issue poll notification for the seventh phase of elections on Monday morning. Process to file nominations will begin on April 22. The last day for filing of nominations will be April 29, and last day for scrutiny of nominations will be April 30. The last date for withdrawal of candidature is May 2.
Along with Punjab, the other states that go to polls on May 19 will be Bihar (8 parliamentary constituencies), Jharkhand (3), Madhya Pradesh (8), West Bengal (9), Chandigarh (1), Uttar Pradesh (13) and Himachal Pradesh (4).
With the election process set rolling, the ruling Congress in the state and Aam Aadmi Party have announced their candidates for all 13 parliamentary seats.
Shiromani Akali Dal (SAD) is yet to announce its candidates for the two crucial seats of Bathinda and Ferozepur. Political speculation is rife over sitting Akali Dal MP Harsimrat Kaur Badal being re-nominated from Bathinda and Akali Dal president Sukhbir Singh Badal to himself contest from neighbouring Ferozepur constituency.
Over the past few days, the couple, aided by party patriarch Parkash Singh Badal and Youth Akali Dal leaders led by Bikram Singh Majithia, have stepped up the party's campaign in these important constituencies of Malwa region.
Bhartiya Janta Party, which is an ally of the SAD, and contests three of the 13 seats, is yet to name its candidates.
On the other hand, Aam Aadmi Party has announced its candidates for all parliamentary seats. Its breakaway group led by Sukhpal Singh Khaira, Punjabi Ekta Party which has formed a larger umbrella of several political factions under the aegis of Punjab Democratic Alliance (PDA), has also announced its candidates on all parliamentary seats.
The breakaway group of Akali Dal—Akali Dal Taksali—too is still caught in its "now-on now -off" alliance with the PDA. Though an understanding has been reached for Khadoor Sahib Parliamentary seat between Taksalis led by sitting MP Ranjit Singh Brahmpura and PDA in favour of Paramjit Kaur Khalra fielded by PDA, there is still no formal understanding for the remaining seats.
The party has fielded two candidates—one from Anandpur Sahib and another from Sangrur.
The poll battle in Punjab this time would be different with all three main political parties in fray facing dissent from within its rank and file. Both AAP and SAD have seen dissent and rebellion much before the poll process was set in motion and seem prepared after the storm has blown over. But the ruling Congress is facing the rebellion now—after nominations to various seats were announced.
The polls will also be a litmus test for all political parties and the breakaway factions in fray: for the Congress to prove its popularity after two years of rule; for the Akali Dal-BJP to prove its mettle after being completely decimated in 2017; for the AAP to prove its alternate politics is relevant; and for the breakaway factions—Taksalis and PEP—to prove that they have the political acumen and people's mandate.
Top Stories