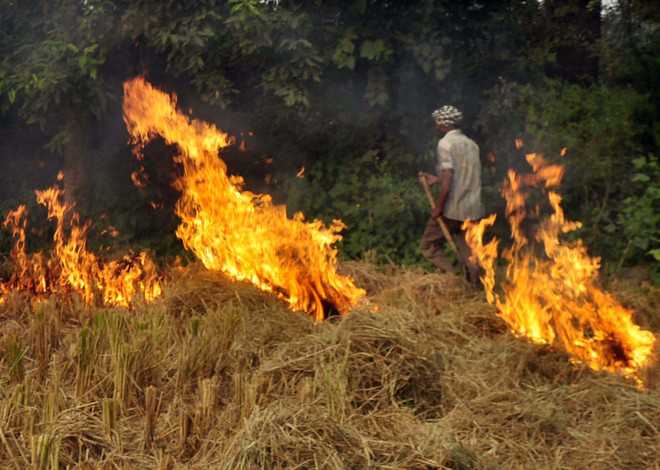 Aman Sood
Tribune News Service
Patiala, October 3
Punjab farmers continue to burn paddy residue despite directions to the contrary. The data of the last few days shows a sixfold increase in the number of stubble-burning cases as compared to the corresponding period last year.
As compared to 25 farm fire cases recorded by the Punjab Pollution Control Board (PPCB) between September 23 and October 1 in 2018, nearly 159 incidents were registered this year.
Farmers in the state usually burn the residue after harvesting paddy in the autumn season to clear their fields for sowing wheat. Smoke from Punjab travels up to Delhi every year, leading to a spike in the pollution levels in the NCR region.
With paddy procurement starting from October 1, the air quality in Punjab is sure to take a hit. It has already started deteriorating from "good" to "satisfactory" level due to farm fires.
The air quality index of the last nine days shows that the pollution levels have gone up with Amritsar registering 71 RSPM (respirable suspended particulate matter), Ludhiana 72, Mandi Gobindgarh 46, Patiala 45, Jalandhar 61 and Khanna 54.
While 0-50 microgram per cubicmetre (µg/m³) RSPM (respirable suspended particulate matter) is considered good, 51-100 satisfactory, 101-200 moderate, 201-300 poor, 301-400 very poor and 401-500 severe.
Kahan Singh Pannu, Director, Mission Tandarust, said they had given 28,000 machines on subsidy last year and released Rs 260 crore worth of subsidy for 26,000 new machines this year. "Farm fires have started early since the crop was sown in advance this year," he stated.
Sources said the real problem would arise after a fortnight when regular variety of paddy would be harvested. "The current stubble-burning incidents will not have much effect on Punjab or Delhi's air due to climate conditions, but the situation will change in the second half of October," say experts.
"Due to heavy easterly winds moving towards Punjab and Haryana, all pollutants from fields will get pushed into Pakistan for the next 10-15 days. But towards the end of October, wind pattern changes into north-westerly and air will flow towards Delhi," they say.
Air quality plummets every year at the onset of the winter in Northern India, and stubble burning in the farm states of Punjab, Haryana and western Uttar Pradesh is estimated to account for 20-30 per cent of Delhi's fine particulate pollution or PM 2.5.
Due to the short window between the harvesting of paddy and the sowing of wheat, farmers clear their fields by setting the leftover paddy straw afire.
Top News
Rana Gurmit Singh Sodhi, Manoranjan Kalia and Amanjot Kaur R...
Can meet at Hyderabad residence on Dec 6, says Kavitha
CM Bhupesh Baghel had earlier accusing the probe agency of c...
Secretary of State Antony Blinken emphasises that Biden Admi...
Gurpatwant Pannu, head of the banned terror outfit Sikhs For...