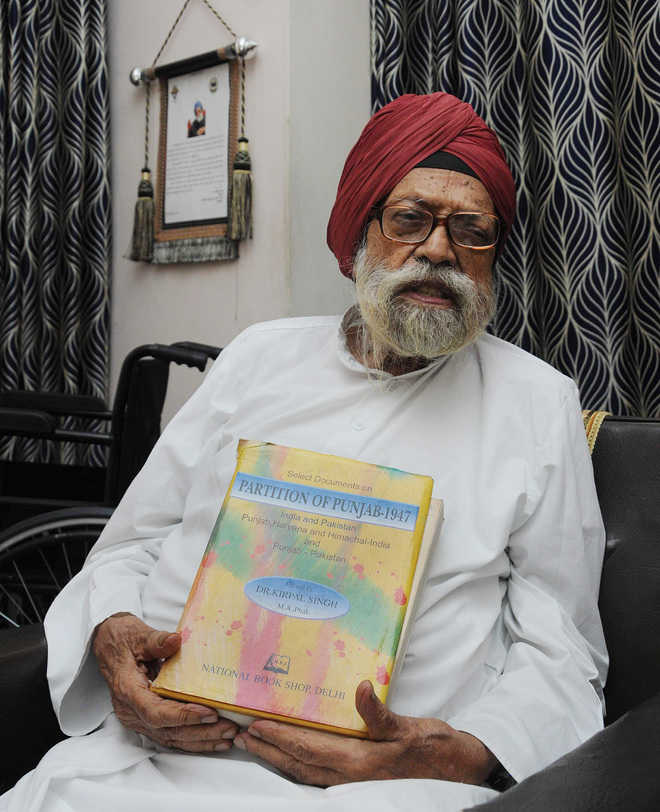 Roopinder Singh
Tribune News Service
Chandigarh, May 7
A gentle presence of firm convictions Dr Kirpal Singh is no more. He was 95. He spent most of his life researching Partition — which tore him away from the land of his birth, Gujranwala, now in Pakistan — and the history of Punjab. The scholar was working till virtually the last, not surprising for someone who had spent a lifetime immersed in research.
Born in 1924, Kirpal Singh earned his BA (Honours) in History from Punjab University, Lahore, and MA (History) from Delhi University. His PhD from Panjab University, Chandigarh, was on the partition of Punjab. He initially worked in Delhi but soon shifted to Amritsar, where he spent 15 years of his initial academic career at Khalsa College, which he joined in 1950.
Focusing on Sikh historical research, he succeeded Dr Ganda Singh who had left the college. He thus had big shoes to fill, but rose to the occasion rather well. While at Khalsa College, Dr Kirpal Singh was nominated a member of the Indian Historical Records Commission, and his knowledge of Persian gave meaning to many documents in the archives of the college library.
In 1962, with Chief Minister Partap Singh Kairon's help, he went to England to research on Partition and Punjab. Kirpal Singh interviewed a virtual who's who of the architects of Partition and returned with extensive documentation. He wrote extensively on the subject.
He was later to join the Department of Punjab Historical Studies, Punjabi University, Patiala. After a long and distinguished service, he retired as Professor and Head of the Department of Punjab Historical Studies. While at Patiala, he also founded the Oral History Department in the university.
The author of an estimated 50 books was hit hard by the death of his wife Joginder Kaur in August 2018. A schoolteacher, she was a significant source of strength to him. His two sons and a daughter survive him.
The books written by the scholar include "Janamsakhi Tradition: An Analytical Study", "Perspectives on Sikh Gurus", "The Sikhs and Transfer of Power", and "Hardinge Papers Relating to Punjab."
Among his many professional accomplishments was his long association with the Asiatic Society, Kolkata, as member of its Governing Council (1992-97) and as Secretary, History and Archaeology (1995-97). He was also member of the Government of India's Historical Record Commission.
The Shiromani Gurdwara Parbandhak Committee recognised his outstanding contribution to Sikh history, as did Akal Takht, which gave him the title of 'National Professor of Sikhism' in 2014. The same year, a festschrift in his honour, entitled 'Punjab Revisited: Social Order, Economic Life, Cultural Articulation, Politics, and Partition', was released by Punjabi University, Patiala.
An unseemly controversy regarding history textbooks in Punjab last year only increased his determination to finish his work on editing 'Sri Gur Partap Suraj Granth', magnum opus of Bhai Santokh Singh. Even as tributes pour in, the feeling that the gap left by someone whose name was often mentioned in the same breath as the late Dr Ganda Singh and Dr Fauja Singh will be hard to fill. Yet, we have his considerable body of work to lean on. The scholar's work will outlive him, as it should.
Top News
Several pictures of Amritpal Singh in different attires rele...
Arguments between the Speaker and Congress MLAs are witnesse...
A bench of Chief Justice DY Chandrachud and justices PS Nara...