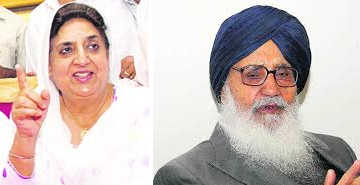 Rajmeet Singh
Tribune News Service
Chandigarh, July 23
Former Punjab Chief Ministers will soon get an official residence in Chandigarh. The state government is looking for suitable accommodation in the city's upmarket sectors.
The move is set to benefit ex-CMs Parkash Singh Badal and Rajinder Kaur Bhattal. After a defeat in this year's Assembly elections, Bhattal had vacated her official accommodation in Sector 2.
A 45-year-old provision in the legislation that allowed the government to extend facilities, including an official bungalow, to former Chief Ministers will be restored through an amendment.
Sources stated that a provision in the Ministers (Salaries, Allowances and Privileges) Act for government accommodation and other privileges had been withdrawn in 1972.
Three months ago, the issue had cropped up when Badal, after demitting office, had to search for a rented accommodation in the City Beautiful. Though Chief Minister Capt Amarinder Singh had offered free accommodation, Badal had said no.
In the past few days, parleys have been held between the Home Department and the Department of General Administration to identify about four houses. After an initial scrutiny, the Home Department has been asked to ascertain the security aspects of these houses.
Top Stories