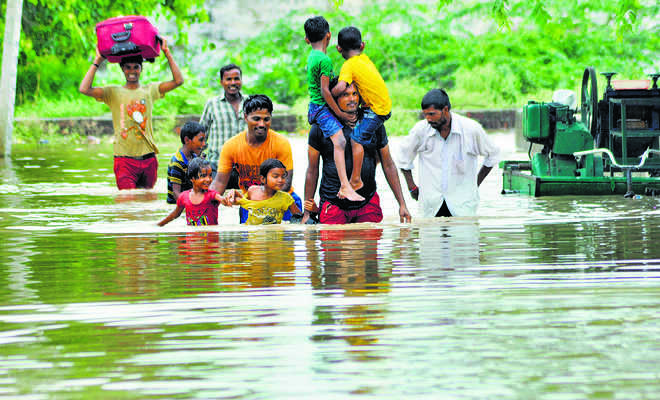 Vijay Mohan
Tribune News Service
Chandigarh, July 16
Following widespread rains in the region over the past couple of days, the monsoon deficit in Punjab has been covered up, though the neighbouring states of Haryana and Himachal Pradesh continue to face a serious shortfall.
The poor rains in catchment areas notwithstanding, the water storage in vital dams remains comfortable, with the availability being above the 10-year average for this time of the year. The water level at Bhakra Dam on the Sutlej, which is vital for irrigation and power generation, was recorded at 1,624.18 feet today, about 110 feet more than that in the corresponding period last year.
Read also:
The rainfall in Punjab, which till a few days ago was deficient by almost 50 per cent, is now 10 per cent above the long-term average. From June 1 to July 16, the state has received 147.9 mm rain against the normal of 135 mm, according to Met Department. Rains in Haryana and Himachal Pradesh, on the other hand are deficient by 45 per cent and 36 per cent.
Six Punjab districts of Gurdaspur, Amritsar, Hoshiarpur, Jalandhar, Ferozepur and Moga have received rainfall below the long-term average, with Hoshiarpur (-69 per cent) being the worst-hit.
Only four districts in Haryana—Ambala, Yamunanagar, Kurukshetra and Karnal—have received normal rainfall and deficiency in other districts ranges up to 92 per cent. Faridabad, Mewat, Rohtak and Panipat are among the worst-affected.
No district of the hill state of Himachal Pradesh, has received rain above the long-term average. Solan (-15) and Shimla (-19) are the best placed while the tribal districts of Chamba (-60) and Lahaul and Spiti (-55) and Kangra (-47) are the worst hit.
According to Central Water Commission (CWC) officials, Bhakra Dam is filled up to about 48 per cent of its capacity. The storage had gone down to 6 per cent last year because of unusually low water inflow. The present storage level at the Bhakra, say sources, is 15 per cent above the past 10-year average during autumn.
Top Stories