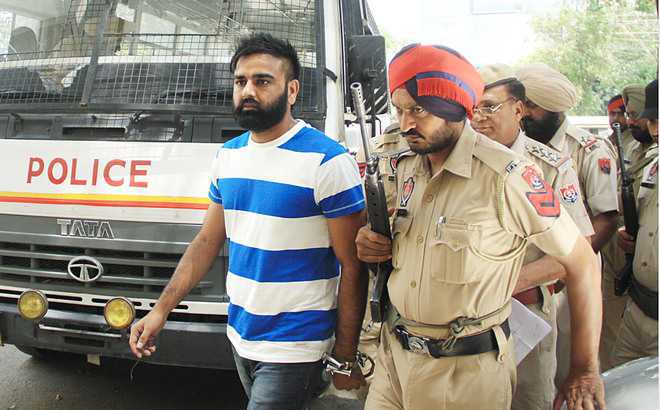 Aman Sood
Tribune News Service
Patiala, January 26
Notorious gangster and Nabha jailbreak mastermind Vicky Gounder and his accomplice Prema Lahoriya were killed in an encounter with Punjab Police at a village in Sri Ganganagar district on the Punjab and Rajasthan border on Friday evening.
Gounder was shot twice. The gangsters also fired over a dozen rounds at the police.
(Follow The Tribune on Facebook; and Twitter @thetribunechd)
Another unknown accomplice of the gangsters has been rushed to Ganganagar hospital in Rajasthan where he is also reportedly critical.
They were shot dead in a heavy exchange of fire. Two Punjab Police cops also sustained injuries in the abdomen and chest. The two policemen were referred to a hospital with serious injuries.
A team headed by AIG Intelligence Gurmeet Chauhan and Inspector Bikramjit Brar shot dead the duo.
Harjinder Bhullar (27) alias Jinder alias Vicky Gounder was the son of farmer Mehal Singh Bhullar, of Sarawan Bodla village in former Chief Minister Parkash Singh Badal's home turf Lambi.
Gounder was one of the deadliest gangsters of the state, who broke out of maximum-security Nabha jail on November 27 in 2016.
Gounder (meaning a goon in local parlance) was the prime accused in the killing of Sukha Kahlwan, a gangster.
He had allegedly danced over the body and filmed the act before fleeing. His audacity and claim to fame is he once uploaded a post on Facebook and dared the then Bathinda SSP to arrest him.
A 20-member police team took part in the operation in which the two gangsters were shot dead.
Congratulations to Punjab Police for killing most wanted gangster Vicky Gounder and his aide Prema Lahoria. Excellent work by DGP Suresh Arora, DG Intelligence Dinkar Gupta and OCCU team, including AIG Gurmeet Singh and Inspector Vikram Brar. Proud of you boys.

— Capt.Amarinder Singh (@capt_amarinder) January 26, 2018
The gangsters were hiding in the village since Thursday night and the police were tracking their movement. The alleged lead came from within a jail in Punjab where a phone call was intercepted between a lodged gangster and an outsider in Delhi. Police acted on the tip off and conducted a raid.
Read: Nabha jailbreak: KLF chief, 5 others freed
4 mins is all it took to flee Nabha jail
Know the Nabha prison escapees
Gounder's aide posed as prisoner during jailbreak
Gounder killed his sporting career

Gounder 'active' on FB, cops on trail
Gounder may be killed in encounter, fears family
The gangs of 'prosperous' Punjab

Centre seeks report from Punjab Government on Nabha jailbreak
Amarinder accuses Badal govt of complicity in Nabha jailbreak
Punjab Govt suspends DGP Prisons; dismisses two cops
Woman killed as cops fire at vehicle jumping barricade post jailbreak
---
Top News
CM Uddhav Thackeray reshuffles Cabinet, removes 9 rebel mini...
The Budget remains silent on giving Rs 1,000 to each woman i...
Complaint was filed in Uttar Nagar police station on June 25
Zubair was produced before a magistrate, who sent him to pol...
The ED in April provisionally attached assets worth more tha...