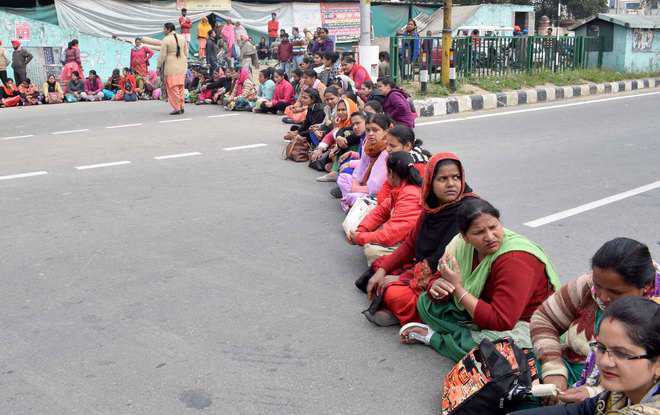 Tribune News Service
Patiala, March 2
Bowing down to the pressure by protesting contractual staff of Government Rajindra Hospital, the state government has agreed to regularise their services.
The announcement in this regard has come two days after two nurses jumped off the hospital building. Health and Family Welfare Minister Brahm Mohindra had to face strong opposition when he visited the hospital to meet the injured nurses on Friday.
Thereafter, Mohindra met the protesting members who had blocked the Patiala-Bathinda highway and gave them a written assurance that services of the protesting health staff in the state would be regularised by March 7.
He said, "We had a discussion on February 28 about the demands of the protesters. Thereafter, on Saturday, in the Cabinet meeting, it was decided that 650 staff nurses, 130 Class IV employees, and 75 ancillary workers will be regularised by March 7."
Following the written assurance, the protesters called off their 26-day protest at the hospital.
Sandeep Kaur Barnala, chairman, Punjab Nursing and Ancillary Staff Union, said, "After the written assurance by the minister, we spoke to our injured nurses. After the discussion, we have decided to call off the protest."
Earlier, contractual nurses and Class IV employees blocked the Patiala-Bathinda road in front of the hospital. The protest left hundreds of commuters stranded.
Top News
Team of Congress central observers, led by Chhattisgarh CM B...
BJP MP Kirodi Lal Meena moved for leave to introduce the Bil...
A bench of Justices MR Shah and CT Ravikumar said that only ...
Average of assets per winning candidates in Himachal Pradesh...