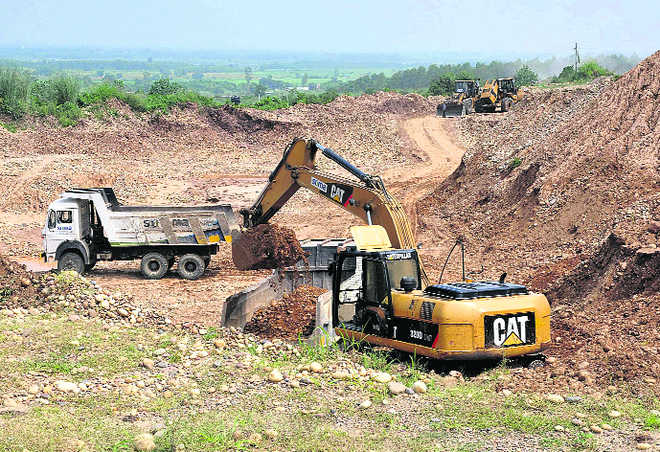 Tribune News Service
Chandigarh, May 21
The state government has decided to release another 70 lakh tonnes of mining capacity to meet the demand for sand and bring its price under control.
With the generation of a total capacity of 3 crore tonnes, the government is looking to fill the demand-supply gap, thus effectively decartelising the mining business and stabilising the price of sand.
An official spokesperson said the mining policy was aimed at providing sand at reasonable price to the people and revenue generation for the state.
With 70 lakh tonnes of additional capacity set to be released soon, the total quantity of sand in the market will go up to 3 crore tonnes, including 1 lakh tonne already available,. This would be more than sufficient to meet the current estimated demand of 2 crore tonnes.
The spokesperson said the conditions of mine allotment under the new policy had built-in checks against hoarding and speculation by contractors, who were required to deposit security and advance payment by May 23. In case of failure, the earnest money deposited would be forfeited and the mine would be re-auctioned immediately, with the said contractor being blacklisted for future contracts.
Review policy: AAP
Chandigarh: The Aam Aadmi Party (AAP) on Sunday asked the government to review its mining policy, adding that the just-concluded auction of mining sites would have disastrous consequences for the environment and cause the prices of sand and gravel to go through the roof. In a press release, AAP leader Dinesh Chadha said going by the data provided by the government, a tipper of sand and gravel would cost at least Rs 40,000 to the end consumer. He said the contractors, in a bid to avoid losses, might conduct large-scale illegal mining in the vicinity of the auctioned areas. Chadha said the common man would have to pay much more for sand and gravel under the new policy, while natural resources would be depleted due to the non-scientific methods used in illegal mining. He asked the Union Environment Ministry to intervene in the matter.