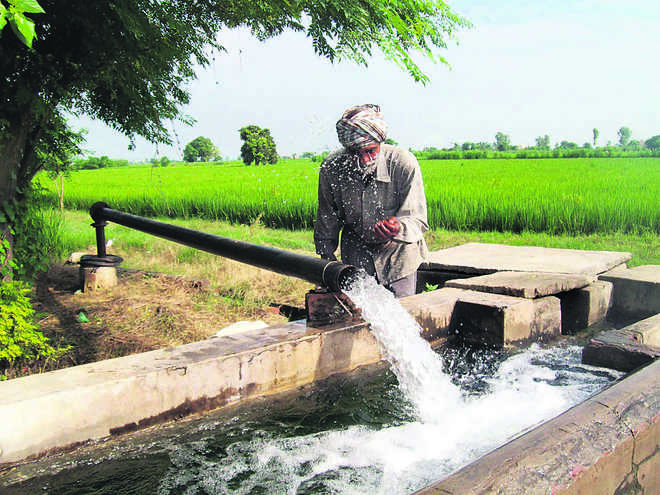 Parvesh Sharma
Tribune News Service
Sangrur, June 8
All blocks in Sangrur are in the dark zone, while two of three blocks in Barnala are in the dark zone due to over-exploitation of groundwater.
However, farmers are still adamant to sow paddy on their maximum land as they claim that the state government has failed to offer required help to them to switch over to other crops.
Blocks like Bhawanigarh, Andana, Dhuri, Dirba, Malerkotla-1 and 2, Sherpur, Sangrur, Amargarh and Ahemdgarh are in the dark zone. Despite the tall claims of the state government and their campaigns to convince farmers against paddy cultivation, merely 10,000 hectares will be diverted to non-paddy crops this year in the district.
"Last year paddy was sown in 2.87 lakh hectares, but this year we are hopeful to divert 10,000 hectares toward maize and cotton. Farmers will sow paddy over 2.77 lakh hectares," said Sushil Kumar, Chief Agriculture Officer, Sangrur.
In a majority of villages, the water table has gone down to around 350 to 500 ft; while earlier it was available at 200 ft. The decline in groundwater is compelling farmers to install more tubewells to extract required quantity of water. Farmers have announced to start paddy sowing before the date fixed by the state government.
In Barnala, except Sehna, both blocks, Barnala and Mehal Kalan, are in the dark zone.
However, efforts by the Agriculture Department have shown little impact as only 1,000 hectares have been diverted towards non-paddy crops. During the current year, farmers will sow paddy over 1.13 lakh hectares against the last year's figures of 1.14 lakh hectares.
"Every year the water table is going down by around 1.14 meters. We are organising special camps in villages to spread awareness to convince farmers to opt for non-paddy crops," said Jaswinderpal Singh Grewal, Chief Agriculture Officer, Barnala.
Troubled waters
All blocks in Sangrur are in the dark zone, while two of three blocks in Barnala are in the dark zone due to over-exploitation of groundwater
Farmers still rely on paddy as the government 'failed' to help them switch over to other crops