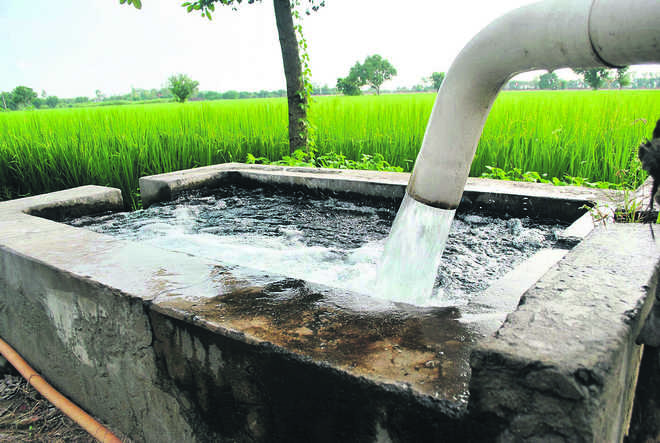 Ruchika M Khanna
Tribune News Service
Chandigarh, November 17
The groundwater contamination in the state has reached alarming proportions. While the Majha region has high arsenic contamination, Doaba is afflicted by selenium and groundwater in Malwa has high uranium content.
These are the findings of a recent research conducted by physicist Hardev Singh Virk. The study points out how Punjab is facing a crisis situation due to high levels of heavy metals and uranium in groundwater. The research is based on the findings of the Punjab Water Supply and Sanitation Department report, which had collected samples from 2,080 habitations.
Talking to The Tribune, Hardev Singh Virk, whose preliminary report on water contamination was released in 2018, said the final report now analyses the high level of heavy metals, which is way beyond the permissible level of 10 parts per billion (ppb). "The study reveals how 504 habitations (where source of groundwater in through tubewells) in Amritsar, 324 Gurdaspur and 322 Tarn Taran have high arsenic content in groundwater. Various studies have shown how high arsenic content is linked to high cancer risk. Another recent research by the Indian Council of Agriculture Research (ICAR) has reported arsenic beyond the safe limit in 13 districts," he said.
In Doaba, selenium content was found in 105 habitations in Jalandhar, 30 Kapurthala and 19 Nawanshahr. Besides, Ludhiana, which otherwise falls in Malwa region, has high contamination of selenium with 90 habitations having higher than permissible limit of the metal. The acceptable limit is 0.01 mg/l, and these habitations have up to 0.140 mg/l content of selenium. Virk says though selenium toxicity has been reported in animals, human and laboratory studies carried out in seven villages of seleniferous area of Punjab has suggested that it may increase blood pressure. It can also lead to nausea, diarrhoea, abdominal pain, chills and marked hair loss, among other problems.
The uranium content was high in 217 habitations in Fazilka, 203 habitations Moga, 139 Ferozepur and 115 Barnala. This can have an impact on kidneys and in case of concentration being over 100 parts per billion, radioactivity will begin to be a consideration.
Virk says that though the Punjab Water Supply and Sanitation Department has started the process of removing the heavy metals from groundwater — coagulation for removal of uranium through reverse osmosis and bring down uranium content to 60 ppb; using AMRIT technology for removing arsenic – the need of the hour is to shift all drinking water supply to canal-based water. The canal-based was is already being supplied in most parts and the state should immediately ensure that all areas get canal water. "There is also an urgent need to change the cropping pattern in Punjab to halt the depletion of groundwater table further," he says.
Top News
Several pictures of Amritpal Singh in different attires rele...
Severest of severe action taken: CM | Amritpal's lawyer alle...
The report of the panel was tabled in the Lok Sabha on Tuesd...