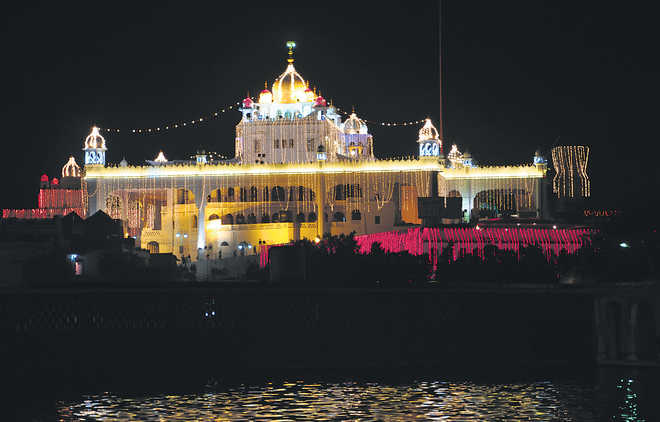 Dr Satish K Kapoor
Guru Tegh Bahadur, the ninth guru, was a prophet-martyr whose ennobling spirit, transcendental vision, and humanistic outlook, are reflected in his life and poetical compositions. He disapproved of the theocratic nature of Aurangzeb' regime. Appalled by the plight of Kashmiri Brahmins who approached him to safeguard the Hindu dharma he volunteered to lay down his life.
Some believe that he was arrested in Agra from where he was moved to Delhi before his execution. But historians say that he was made captive on July 11, 1675, only a day after he had left Chakk Nanaki. He was taken to Sirhind, detained at Bassi Pathana for about three months, and subsequently shifted to Delhi in an iron cage. After reaching there on November 4, 1875, he was asked to choose between death and conversion to Islam. The three Brahmin devotees who had accompanied him were butchered before his eyes to coerce him. Bhai Mati Das's body was sawn into two parts; Bhai Dyal Das was pushed into an oil boiler; and Bhai Sati Das was incinerated. Nothing could shake his faith, and he remained calm like a Michael Servetus.
Since Guru Tegh Bahadur refused to accept Islam, he was asked to authenticate the credentials of his faith by performing a miracle which he refused. Any display of supernatural powers is taboo in the Sikh faith as it is tantamount to intervention in the affairs of the Divine. As a consequence, he was beheaded, in full public view in Chandni Chowk, Delhi, on November 11, 1675. Sis Ganj shrine reminds us of his supreme sacrifice.
Guru Tegh Bahadur's body was whisked off by a Lubana devotee, Lakhi Shah, with the support of his sons and others, and burnt along with his house before dawn at Raisana village, to dodge the Mughal administration. The mortal remains were picked up and buried on the spot in a brass vessel. Gurudwara Rakab Ganj commemorates the hallowed place today.
In an act of dare-devilry, Jaita, a low-caste Sikh, in collaboration with devotees like Nanu, Agya and Uda, carried away the severed head of Guru Tegh Bahadur to Anandpur Sahib where his son, Guru Gobind Singh, performed the obsequies on November 16, 1675. Gurudwara Sis Ganj, Anandpur Sahib, stands at the site where Guru Tegh Bahadur's head was cremated. In Bachitra Natak (chapter 5), Guru Gobind Singh wrote thus about the event:
'The Lord protected the paste-mark and the sacred thread. And in Kaliyuga performed a mighty heroic deed.
This deed he performed for the protection of dharma/Gave up his head, but not his passion….
At Tegh Bahadur's departure, the whole world was plunged in grief;
…but the celestial realms echoed with his glory.'
The martyrdom of Guru Tegh Bahadur infused fresh courage among the people to fight against tyrannous rule, and generated a heroic temper which culminated in the birth of the Khalsa. Guru Tegh Bahadur'ennobling ideas and his fearlessness are reflected in his poetical compositions – 59 shabad-s and 57 shloka-s- which adorn the pages of Shri Guru Granth Sahib.
The omnipresence of god, the transitory nature of the world, the despair of man caught between material objects and the existential urge to attain Him, and the true way to liberation – these are the chief concerns of Guru Tegh Bahadur. Why go to the forest in quest of god, he asked. 'The Lord who is all pervading yet detached, envelopes the Being, like fragrance in a flower.''Like the reflection in the mirror/ The Lord ever abides in us/ Seek thou within thyself/ He is inside and outside of each object.'(Dhanasari 17.9)
Guru Tegh Bahadur observed that the truly enlightened one overawes none, nor does he yield to anyone in fear (Shloka 16). He lives in a detached manner, totally unaffected by misery or happiness. He treats friends and foes alike, and is free from human vices like greed, lust and self conceit. In contrast, ordinary persons are manamukha, oriented to the ways of the mind. Sensory pleasures have made them oblivious of the ultimate goal of life.
He advised that the mind can be disciplined by dispassion, non-attachment and repetition of god's name. One cannot realise god by fasting, going on pilgrimage, resorting to ascetic practices or retiring from active life but by seeking his grace. He exhorted mankind to shed egocentricity, and to remain pure among the impurities of the world, as life is just a dream — a bubble on the inchoate ocean of eternity. 'O man! Why be proud of thy Frame of flesh?/ It may disintegrate in a moment.( Shloka 42).
(Dr Satish K Kapoor, former Principal, Lyallpur Khalsa College and former Registrar, DAV University, is a noted author, historian and spiritualist based in Jalandhar city)