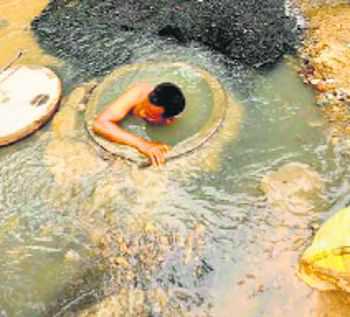 Saurabh Malik
Tribune News Service
Chandigarh, October 5
The Punjab and Haryana High Court has banned the hazardous cleaning of sewer, septic tanks and manholes manually in Punjab, Haryana and Chandigarh.
The court issued the direction while making municipal commissioner, additional commissioner, deputy commissioner and elected members of local bodies and Panchayati Raj Institutions responsible for ensuring non-visibility of garbage within the territorial jurisdiction.
The bench of Acting Chief Justice Rajiv Sharma and Justice Harinder Singh Sidhu issued more than 35 commandments for making the cities livable.
The directions came less than a week after the court took suo motu cognizance of news item "How we have failed the manual scavenger. And Gandhi" carried in these columns.
Speaking for the Bench, Acting Chief Justice Sharma asserted that the municipal governance had failed to provide green and clean environment to its citizens and every citizen had a right to sue the elected representatives, officials and officers of the municipal corporation in case they remained amiss in discharge of the statutory duties.
Acting Chief Justice Sharma directed Punjab, Haryana and Chandigarh to ensure that no person was employed to clean septic tank, sewer manholes, which were to be cleaned mechanically.
The states and UT were also directed to provide financial assistance, incentive for use of modern technology for the purpose. ACJ Sharma also directed the demolition of every insanitary latrine existing in their jurisdiction within three months.
Making it clear that no one would be employed directly or indirectly as manual scavenger, ACJ Sharma also declared void existing contracts agreements and other and instruments entered into or executed for employing persons for manual scavenging.
ACJ Sharma added that every manual scavenger would be allotted a residential plot and financial assistance for construction.
Directions were also issued to give monthly pension ofRs 35,000 to legal heir of persons engaged in private capacity, who died while cleaning septic tanks and manholes till the age of 60.
Directions were also issued for providing class four jobs to legal heir of the victims.
The Bench directed that all streets and public premises would be cleaned on daily basis even on Sundays and public holidays by the local bodies.
ACJ Sharma said workers cleaning streets and removing garbage would be provided with necessary equipment, including uniform for winters and summers separately with reflectors and identity cards.
The local bodies were also directed to consider providing two dustbins for dry and wet biomedical waste free of cost to all households in MC area. The local bodies should consider heavy fine on those violating orders and general directions on against littering.
Top Stories