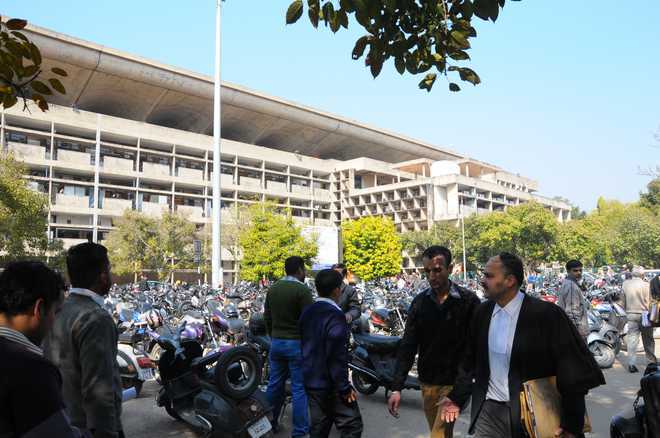 Saurabh Malik
Tribune News Service
Chandigarh, September 16
For arresting stress levels in Punjab Police, the Punjab and Haryana High Court on Monday ordered the constitution of a high-powered committee to come up with recommendations on improving the service conditions.
Among other things, the committee would look into the hours of duty, removal of stagnation, housing issues and liberal leave procedures.
The Bench of Justice Rajiv Sharma and Justice Harinder Singh Sidhu made it clear that the committee would comprise Punjab Principal Secretary (Home) and the State Director General of Police. The Bench also set a three-month deadline for the purpose of making recommendations to the state government.
Speaking for the Bench, Justice Sharma asserted that the state government, in turn, would be duty-bound to consider the same within three months of receiving the suggestions.
"We permit the state government to implement the recommendations/suggestions made by the high-powered committee in a phased manner to improve the conditions of service of the police force".
Justice Sharma said most of the health problems occurred due to occupational hazards attributed to long hours on job. "The long duty hours take a toll on the morale, motivation and self-esteem of staff. The overall frustration manifests itself in the offensive conduct and behaviour with the public at times."
Justice Sharma also referred to studies that suggested that normal working hours of a subordinate police officer on public order and crime investigation duty ranged between 10 and 16 hours per day, seven days a week. Then there was pressure of VIP bandobust and VIP security work on the police force.
Justice Sharma added that there was shortage of manpower in police stations, where the functioning was disorganised. Besides, there was complexity of crime work, diversion of manpower on 'attachments' and other duties not related to police station functions, inadequate infusion of technology and non-availability of technological tools/aids. The police force was required to be provided with a month's additional salary in lieu of working overtime, as also on holidays and during their weekly offs.
"The constabulary is usually the first interface of the police with the public, any reform to be meaningful has to begin at this level. Radical improvements in the recruitment, training, emoluments, working and living conditions are essential to improve their morale, reduce their frustration and increase their professionalism," Justice Sharma added.