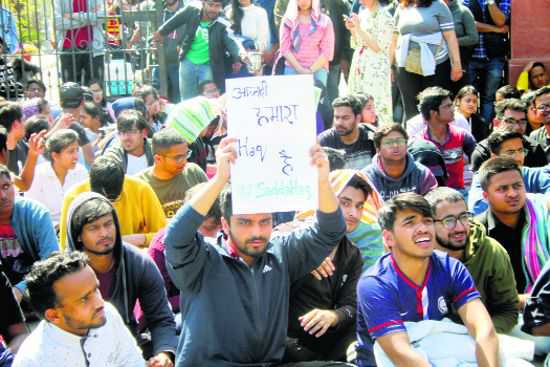 Ravneet Singh
Tribune News Service
Patiala, March 17
The protest over the suspension of six students continued for the third day at Rajiv Gandhi National University of Law (RGNUL) despite a panel of judges from the Punjab and Haryana High Court recommending the university to revoke the suspension orders. The students were suspended following a protest against unhygienic food at a hostel mess.
As per a letter written by the university to parents of the suspended students, the HC panel has recommend the university to revoke their suspension and reschedule the examinations scheduled for Monday.
However, the university informed the parents that the mid-semester exams will be held as per schedule if the students failed to end their stir. "They are threatening our parents to end the protest without solving the issues," reacted a student. He added, "We have decided to boycott the mid-semester exams starting Monday, if they failed to address the issue and revoke the suspension orders."
The university alumni association has also written to the General Council of the university, extending support to the students.
In a letter to the General Council, including the university Chancellor and Punjab and Haryana High Court Chief Justice, Krishna Murari, the alumni association stated, "We request your honourable selves to ensure no harm comes in the way of best interests of the students, who have spoken together for a cause that is just, reasonable and urgent."
An alumnus of the university said, "The students have exhibited courage in protesting against the unjust behaviour of some university officials. The Vice-Chancellor should address the problems with sincerity."
The protest on the RGNUL campus entered its third day. The University accused the six suspended students of indulging in violence and ruthlessness by damaging the university property. The students, forced to walk out of the campus at night, had to take refuge at a nearby dhaba.
Top News
Congress' state in-charge says the party is tipped to get th...
Launches attack against nepotism and graft; seeks collective...
Says Congress will oppose attempts to put leaders like Gandh...
Chandrashekhar Harbola was part of a 20-member troop that wa...
One attack occurred at a minority habitation in Chadoora in ...