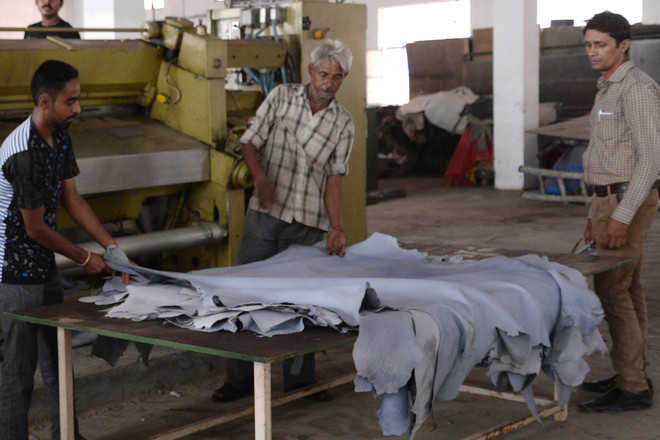 Saurabh Malik
Tribune News Service
Chandigarh, January 3
Ruling that the shutting down of leather industries in Punjab would have grave implications, the Punjab and Haryana High Court today stayed the operation of the National Green Tribunal's (NGT's) recent order on the closure of 35 units, including 19 tanneries in Jalandhar district.
Also read: Stay on NGT order brings relief to tannery owners
The Vacation Bench of Justice Kuldip Singh and Justice Rajbir Sehrawat also stayed further proceedings before the NGT's Principal Bench in New Delhi. The order will remain in operation at least till March 9, when the matter would be taken up by a High Court Division Bench.
The directions came on a petition filed by the Punjab Leather Federation and other petitioners against the NGT and other respondents against the interim order passed on December 18, 2017.
The Bench was told that the NGT's Principal Bench directed the closure of 19 "non-compliant" industries and 16 others already lying closed. Challenging the order, the counsel for the petitioners pointed out that an appeal, converted into a public interest litigation (PIL), was pending before the High Court. As such, the latter was seized of the matter pertaining to effluent control and upgrade of common effluent treatment plants (CETPs).
The Bench was also told that the tribunal could not override the High Court's jurisdiction, once the matter was placed before it.
The Bench was told that a complaint, without complying with the provisions of National Green Tribunal Act, 2010, was made on December 11, 2017. The impugned interim order was passed without calling for the reply. Issuing a notice of motion, the Bench said a perusal of the impugned order by the NGT showed that the pendency of the proceedings before the High Court was brought to its notice.
Top News
Odisha government has issued helpline 06782-262286. The rail...
At least 50 people died and 350 were injured in a three-way ...
12837 Howrah-Puri Superfast Express, 12863 Howrah-Bengaluru ...
WFI chief demanded sexual favours in lieu of supplements and...
Said agitation will be intensified by holding panchayats acr...