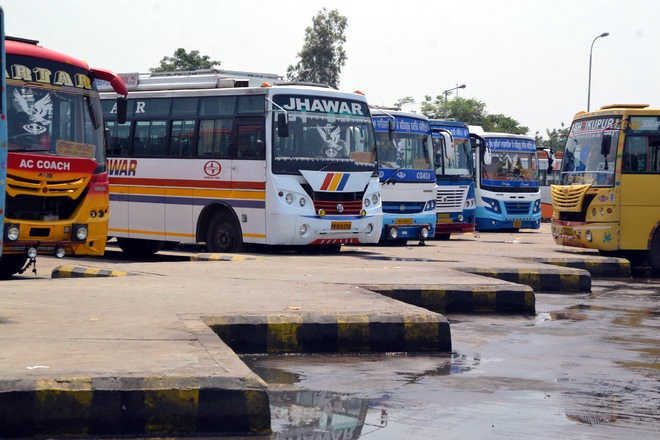 Tribune News Service
Chandigarh, July 18
Just about two months after a Single Bench set aside show-cause notices to private bus operators for cancellation of stage carriage permits, a Division Bench of the Punjab and Haryana High Court on Wednesday stayed the operation of the order.
The state government had initiated the move to implement its new transport scheme reformulated in terms of the High Court's previous judgment in Vijayant Travels case by issuing the notice. In all 650 notices were issued to private transporters asking them to show cause why permits should not be cancelled, following which the transporters approached the High Court leading to the quashing of the same by a Single Judge on May 23, 2018.
The order came on an appeal filed by the State of Punjab and another petitioner against M/s Rajguru Transport. Appearing before Justice Surya Kant and Justice Sudip Ahluwalia, Punjab Additional Advocate-General Rameeza Hakeem today asserted the Bench was monitoring the implementation of the judgment in Vijayant Travels, which was subsequently been upheld by the Supreme Court.
Taking up the matter, the Bench asserted: "Our observations in Vijayant Travels were completely ignored by the Single Judge. We want to break this transport mafia and we want to have clean and new players to enter the transport field in Punjab."
The Bench also accepted senior advocate Puneet Bali's prayer on behalf of private transport operators for three weeks' time to submit replies before the regional transport authorities. The case will now come up on August 23 for further hearing.
Just about three months after the notices were issued, the Single Judge had ruled that the State Transport Commissioner totally misinterpreted the judgment while issuing instructions to all regional transport authorities for issuing show cause notices to private bus operators "not only for repeated extensions, but also for curtailments, diversions and increase/decrease of the trips etc".
The Bench ruled that the High Court in Vijayant Travels's case had only struck down a proviso in a scheme which empowered extension of operation in case of existing permits to an unlimited extent. As such, withdrawal of diversions and curtailments, besides increase and decrease in trips by State Transport Commissioner vide his impugned order was totally unwarranted and uncalled for.
Top News
His letter to the council's 15 members on Wednesday says Gaz...
The swearing-in ceremony of the 56-year-old leader would be ...
The 71-year-old will replace Richard Sharp
HM blames Nehru's 'blunders' for Kashmir's sufferings | Oppo...
One of these will vest Guv's Chancellor role with Chief Min...