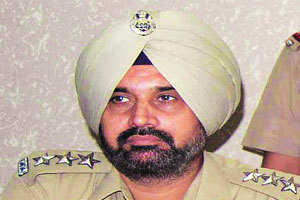 Saurabh Malik
Tribune News Service
Chandigarh, October 17
More than seven years after the then Moga DSP, Balraj Singh Gill, and woman Monica Kapila were found brutally murdered at a farmhouse in Ludhiana, the Punjab and Haryana High Court has upheld the conviction of the three accused.
The Bench of Justice Ajay Tewari and Justice Harnaresh Singh Gill, at the same time, ruled that the trial court got swayed by the double murder and awarded two life sentences. Modifying the order, the Bench made it clear that both sentences would run concurrently. The convicts, Harwinder Singh, Pritpal Singh and Umesh Karda, had moved the High Court after they were convicted by Ludhiana Additional Sessions Judge in September 2015. The judge had directed the sentences to run consecutively and not concurrently.
"The recovery of three mobile phones of the deceased along with their other belongings leaves no doubt about the active involvement of the appellants in the crime," the Bench ruled.
The Bench also upheld the conviction of appellants, Hassanjit Singh and Ravinder alias Rinku, but their substantive sentence was reduced to period already undergone, after the Bench observed they were involved after the occurrence of two murders and had already undergone six months and 15 days of actual sentence.
Appellant Davinder Singh was acquitted of the charges framed against him as allegations were not proved beyond shadow of doubt. An FIR in the matter was registered for murder, theft, criminal conspiracy and other offences on February 2, 2012, under Sections 302, 379, 465, 468, 471, 474, 201, 120-B and 34 of the IPC at the Haibowal police station in Ludhiana.
The victim's father, Kashmira Singh Gill, had told the police that his son Balraj, posted as DSP (Headquarters) at Moga, had told him that he was going out with friends and would return shortly. Finding his mobile switched off, the complainant, along with others, started searching for him. When the complainant reached a farmhouse of Balraj's friend, he saw his son's body. He also saw a woman's body in the bathroom.
Cops had cited robbery as motive
The case dates back to February 2012 when then Moga DSP Balraj Singh Gill and Monica Kapila were found murdered at a farmhouse in Ludhiana
The DSP was found with his throat slit and face smashed, while Kapila's body was so badly disfigured
The Ludhiana police cracked the case two months later in April 2012 with the arrest of the six accused, who claimed that they murdered DSP and his friend to rob them