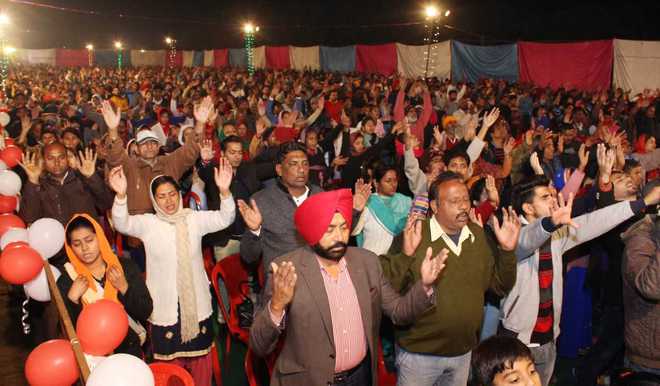 Deepkamal Kaur
Tribune News Service
Jalandhar, December 22
Doaba, known for its deras and dargahs, is witnessing a new trend. Several "churches" have sprung up in the area where tens of thousands of people from all faiths gather every Thursday and Sunday for the "healing touch".
These "churches" hold "prarthana sabhas (prayer meetings)" for addicts, childless couples and those suffering from life-threatening diseases, such as cancer. Prayers are also held for those facing hurdles in migrating abroad. No surprise then that turbaned Sikhs form a big part of the congregation.
The pastors of these "churches", who belong to different faiths, welcome all to their fold. The most popular among them are Ankur Narula of Khambra village, a Hindu Khatri; Harpreet Deol, who is a Jat Sikh from Khojewal village; and Barjinder, a Haryanvi Jat, who has his church in Tajpur. All of them are married. Their wives often join them on stage for prayers and manage massive gatherings.
Attired in a colourful blazer and a necktie, pastor Narula, fondly addressed as 'Papaji' by his followers, runs a grocery shop, a coaching institute for IAS/IPS aspirants, a marriage bureau and a call centre.
"The Church of Signs and Wonders," he says, is being raised on a 7-acre site. The 'church' already owns 26 acres of land where prayers are held under tents.
Pastor Narula recently organised a Christmas 'shobha yatra' in the city. Among the guests were several politicians. Pastor Deol, surrounded by bouncers, also took out a 'shobha yatra', drawing crowds.
Dalit activist Tarsem Peter calls it sheer commercialisation. "They are cashing in on the sentiments of the poor looking for a quick fix to their problems. It also reflects the failure of dominant religions to keep their flock together."
Pointing out that the clout of these new "churches" is particularly on the rise in areas inhabited by the Dalits in large numbers, a wary Balwinder Kumar, a social activist, says: "It is entirely possible that the state may be funding these institutions to weaken the Dalit movement."
The Scheduled Caste population in Punjab is 88.60 lakh, which is 31.94 per cent of the total population.