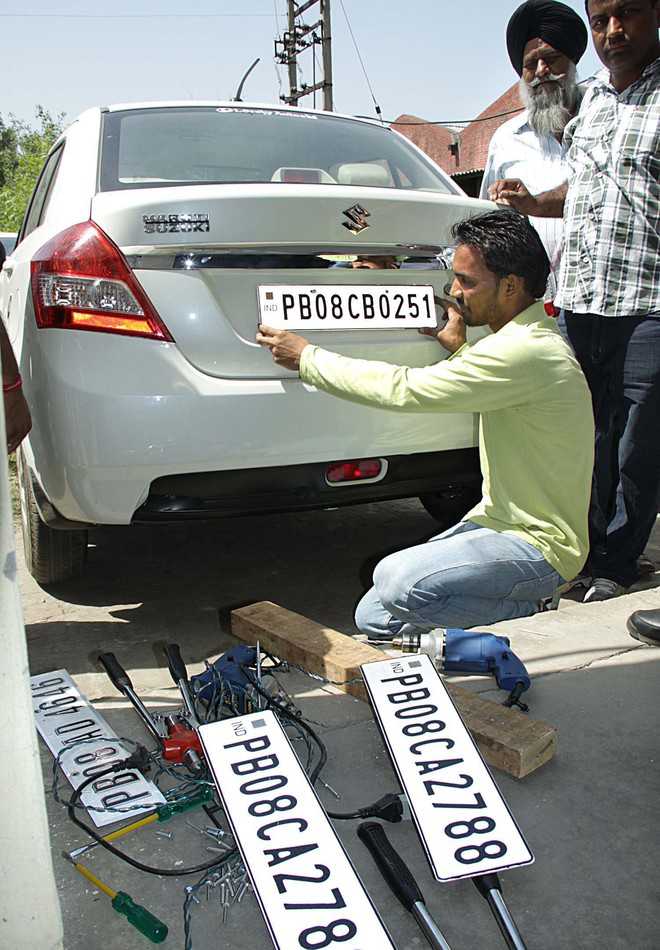 Tribune News Service
Chandigarh, November 27
Punjab has re-started fixing High Security Registration Plates (HSRP) on vehicles to prevent vehicle-borne crimes.
These 'IND' (short for India) marked plates provide a uniform and standardised manner of display of registration numbers and comes with chromium-based hologram to protect them agianst counterfeiting.
According to a statement released by Agros Impex (I) Pvt Ltd, the firm undertaking the work of replacing the number plates on vehicles, the operations of embossing and affixing of HSRP have already commenced at Regional/ District Transport Authorities of Ferozepur, Faridkot, Nawanshahr and Hoshiarpur. The remaining locations will be operationalised within a span of two months.
All new vehicles registered in the state are mandated to affix HSRP as the Registration Certificate (RC) of the vehicle will be issued only post affixation of the plates. The already registered vehicles are also to be affixed with HSRPs, for which the State Transport Department and the vendor company will roll out a schedule once all the districts are covered with the facility of HSRP.
The plates are affixed with non-removable, non-reusable snap locks. The front and rear number plates have unique alphanumeric laser identification number, which, upon affixation on the vehicle, gets registered with the central database of VAHAN.
Top News
No immediate report of any loss of life or property; People ...
Earlier, Amritpal was caught in CCTV footage at a toll plaza...
Police have arrested 154 people so far but Amritpal is still...
Stringent National Security Act has been invoked against Amr...
In his first reaction to the police action, the CM releases ...