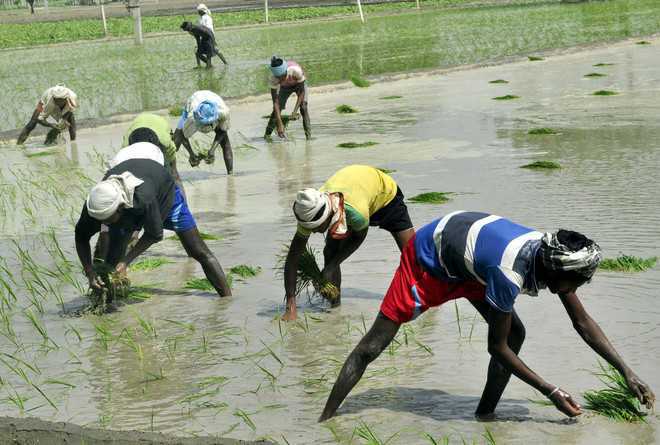 Aparna Banerji
Tribune News Service
Jalandhar, September 7
A fortnight after floods ravaged around 50 villages, affecting standing crop across 103 villages of the district, worries over seed procurement for the upcoming wheat sowing season starting November haunt farmers.
With special girdawari yet to be announced, farmers say the floods threaten their future means of subsistence. Many are contemplating taking to daily-wage labour to make ends meet. "It doesn't seem losses will be compensated enough. We'll take to daily-wage labour," says a Lohian farmer. "Water has not receded yet. Today it rose three feet. Farmers in Mandala Channa belt have lost all crop. We wonder if the land will by dry enough to sow wheat. Many are planning to pursue daily wage labour," says Satnam Singh from Raiwal village.
While official estimates suggest around 10,000 farmers have been affected, farmers claim the number is much higher. The government has pegged girdawari at Rs 12,000 per acre for affected farmers.
While the administration says 21,000 to 25,000 acres have been affected, farmers say it is 35,000 to 40,000 acres. The Agriculture Department has deputed 52 personnel to carry out damage assessment.
Chief Agriculture Officer Nazar Singh said: "It seems crop damage may be less than 20,000 acres. The picture will be clearer on Tuesday. Besides, free wheat seed will be provided to all farmers."
Top Stories