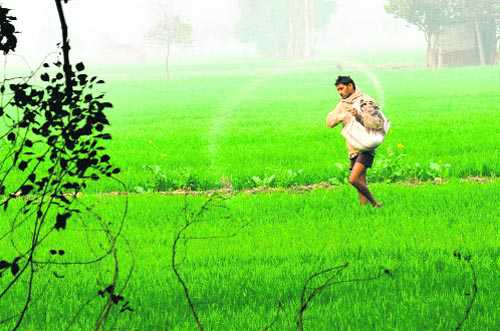 Vishav Bharti
Tribune News Service
Chandigarh, December 2
Three farmers commit suicide in a day in six Malwa districts -- Sangrur, Bathinda, Mansa, Barnala, Ludhiana and Moga. This is the average of the last 15 years. A door-to-door survey in these districts has found that a total of 14,667 agricultural labourers and farmers committed suicide between 2000 and 2015.
The matter was brought forth by PAU experts, who gave a presentation to the Vidhan Sabha Committee on Agrarian Suicides on November 22.
While the government is yet to decide on debt relief to farmers, the study finds that at least 83 per cent of the suicides took place due to debt. Most of the victims were cotton growers. The study notes that marginal farmers (owning less than 2.47 acres) are highly vulnerable. They make 45.61 per cent of the total suicides, while small farmers (owning land between 2.47 acres and 5 acres) account for 30.53 per cent cases.
"Bathinda, Mansa and Sangrur districts where cotton is grown are the worst-hit. This pattern can be noticed all over India," said Prof Sukhpal Singh, who led the survey. The other authors of the survey are Dr Manjeet Kaur and Dr HS Kingra.
The worst-hit district is Sangrur which recorded 3,818 suicides, followed by Mansa 3,388, Bathinda 3,094, Barnala 1,706, Moga 1,423 and Ludhiana 1,238.
The state government had commissioned a survey on farm suicides to Punjabi University, Patiala, Guru Nanak Dev University, Amritsar, and PAU, Ludhiana.
Earlier, Punjabi University had submitted its report on seven districts in which it had found that 1,674 suicides (781 farmers and 893 labourers) took place during 2000-16. Guru Nanak Dev University had submitted a report of 2000-10 and found a total of 433 suicides.
"Looking at the dismal scenario, the immediate steps the government should take is to announce loan moratorium for a period of one year for marginal and small farmers. The loan repayment period should be extended. The government should also start providing interest-free debt. Besides land and machinery, the defaulter's house should not be auctioned to recover debt," said Prof Sukhpal.
72% victims in 15-35 age group
The study has noticed that most of the victims were in the prime of their youth. It finds that 72 per cent of the victims were in the age group of 15- 35 years.
What's leading to desperation
Indebtedness
Rising input costs and declining profitability
Falling farm employment
Expensive healthcare and education
High rate of interests
Lowers margin and subsidies for small farmers
Failure of social support system
What can be done
Enhance farm profitability
Employment generation
Cooperative farming
Fix MSP keeping in view input costs, land rent
Free education and healthcare facilities
Farm subsidies and rationalisation