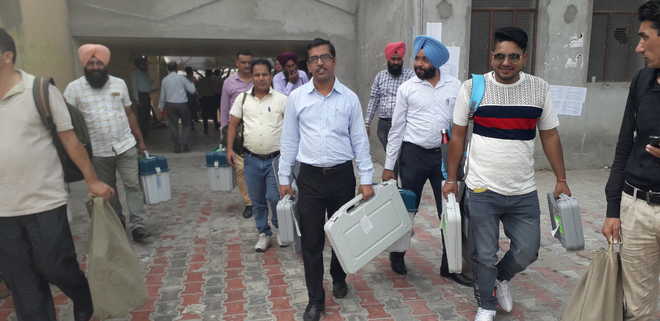 Praful Chander Nagpal
Fazilka, October 20
As many as 239 polling parties of government employees have taken position at the booths with EVMs for the bypoll in the Jalalabad Assembly constituency on Sunday evening.
District Election Officer-cum-DC, Fazilka, Manpreet Singh Chhatwal said polling booths had been set up at 169 locations in the segment. Of the total 239 polling booths, 100 have been identified as sensitive and four as hypersensitive.
About 2.04 lakh voters shall exercise the right to franchise in the Jalalabad segment.
The DC said Jalalabad had been divided into four sectors and one SP each had been deployed in each sector to maintain law and order situation. He said nine flying squads, nine statistic surveillance teams, three video surveillance teams, one video viewing team and an accounting team had been keeping an eye on the election process.
Fazilka SSP Bhupinder Singh said as many as 375 police personnel had been deployed to maintain law and order. Besides this, two companies of the BSF and three companies of PAP would keep an eye on the sensitive booths, he added.
The voting time has been fixed from 7 am to 6 pm.
Top Stories