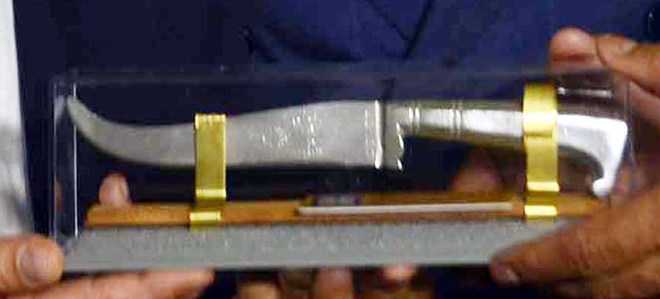 Tribune News Service
Amritsar, June 26
An Italian delegation, including Sikh activist Sukhdev Singh Kang, today sought Akal Takht's approval for a specially designed kirpan.
The delegation said the Italian Government had recently allowed Gursikhs to wear the kirpan, made of a flexible material, as it did not "look like a weapon".
Akal Takht Jathedar Giani Gurbachan Singh said the model would be presented before the five high priests to take a final call.
Last month, an Italian court had upheld a ruling disallowing a Sikh from carrying the kirpan in public, while stating that "public safety from weapons was of paramount importance." Kang said:"An Italian firm has manufactured this kirpan. After the government's nod, it was distributed among Sikhs." Italian officials Rozy Roberto and El Lorenjo said, "The original kirpan carried by Sikhs in Italy appeared more like a weapon. So, the authorities came up with this model to resolve the issue."