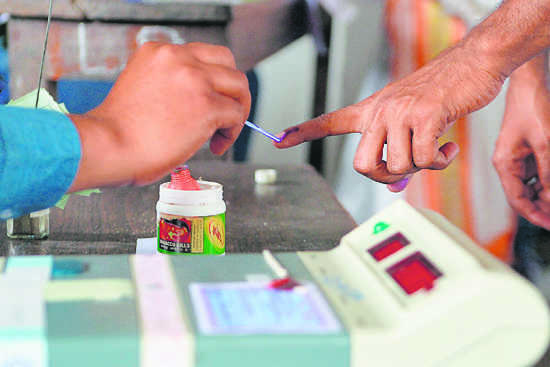 Praful Chander Nagpal
Our Correspondent
Fazilka, October 21
Tension prevailed in Jalalabad on Monday afternoon when SAD workers spotted a man at a polling booth who was allegedly disbursing money to purchase votes. He was taken to the Jalalabad city police station and handed over to the police.
The man was in possession of Rs 40,000.
SAD leaders alleged that one Ramesh Kumar of the neighbouring Guruharsahai constituency was allegedly found disbursing money to buy votes.
SAD Urban District president Ashok Aneja said that a "huge amount of money" was distributed in the entire constituency. SAD candidate Raj Singh Dibbipura also reached the city police station and demanded action against the accused.
SHO, city police station, Jalalabad, Lekh Raj Batti said that the police would conduct an enquiry and take the action on a merit basis. He also said the police would enquire where Rakesh Kumar was kept for one hour by SAD supporters.
Meanwhile official sources said that 57 percent polling was recorded till 3 pm in the Jalalabad Assembly segment.
Long queues were witnessed in rural areas particularly in the border belt dominated by the Rai Sikh community who are known for polling en masse.
A group of men gathered outside a polling booth in Chack Dabwala and Banwala village and demanded a government job.
Lack of jobs for the youth and pension for senior citizens were major concerns of the people in the run-up to the elections. The young men expressed hope that if Congress candidate Raminder Singh Awla is elected from Jalalabad he would set up an industry in the area to offer them job.
Another young voter Kuldeep said: "The youth should be adjusted in the jobs so that they should not fall into the hands of the drug mafia which have deep roots in this area."
The political pundits say that a record polling—even more than 80 percent— is likely in the Jalalabad segment.
Top Stories