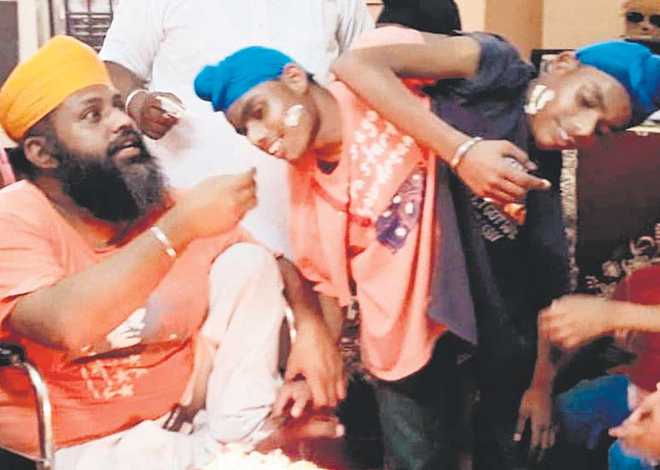 Neha Saini
Tribune News Service
Amritsar, June 16
Sohna-Mohna, the endearing conjoined twins, have reached another milestone, turning 15 a couple of days ago, and as teenagers go, the two now give a questioning look when asked questions about themselves.
As their birthday was celebrated at the All India Pingalwara Charitable Society's Manawala campus, the broad smiles on their faces was enough to warm up the hearts of anyone present.
Sohna and Mohna are growing up to be individuals with strong, distinct preferences, but remain a team, egging each other on in their own way. So, if one is quiet, the other is talkative. But one thing both can't desist from is playing pranks.
Pingalwara staffers recall gleefully how the first words they uttered were "bye" and "mama" and demonstrate the way the twins would fold their hands to say "Sat Sri Akal".
Abandoned by their parents in 2003, the twins share all vital organs, apart from heart, and are conjoined below the torso. Pingalwara welcomed them on August 13 that year. They were named Sohna and Mohna by Dr Inderjeet Kaur, director, Pingalwara Society, after the famous piece of historical fiction by Bhai Vir Singh.
Refreshingly independent, both perform routine chores effectively. "They love working on the computer and reading. Sometimes, they play pranks by speaking together, confusing the other person," says Harpeet Kaur, a staffer at Pingalwara.
They study at Bhagat Puran Singh Adarsh School, Manawala. "Mother" Dr Inderjeet Kaur keeps a close watch on both and a team of doctors regularly keeps tabs.
"After their birth, AIIMS doctors concluded that separation would entail sacrificing one baby and could lead to vascular and neurological loss of one of the lower limbs of the surviving baby. Since the procedure was costly and life threatening, their parents abandoned them. We brought them here," says Dr Inderjeet Kaur.
"They have proved themselves to be very good students, excelling in studies. They can recite 'shabads' and are very chirpy and lively," she adds. "What a joy."
Top News
Were returning from Amarnath yatra duty
Portfolios allocated: While Nitish keeps home, Tejashwi gets...
Jammu and Kashmir Lt Governor Manoj Sinha has condemned the ...
A prime minister for six years between 1998-2004, Vajpayee d...
The men, who are non-exclusive partners living in the same h...