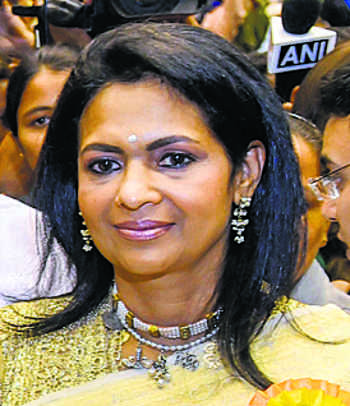 Ravi Dhaliwal
Tribune News Service
Gurdaspur, April 23
The late Vinod Khanna's wife, Kavita Khanna, is all set to contest as an Independent after the BJP announced the candidature of actor Sunny Deol from Gurdaspur.
Vinod Khanna was a four-time MP from this seat and a livid Kavita, who was a frontrunner to bag the nomination, claimed the party had ditched her twice after promising to give her the ticket in the 2017 bypoll and this time.
Sources said the Congress leaders were quick to make overtures to her once Sunny Deol's candidature was cleared. She, however, refused to divulge the names of the leaders who called her up.
"In 2017, senior leaders asked me to be ready to contest as the party wanted to keep the legacy of my husband alive. However, they gave the ticket to Mumbai-based businessman Swaran Singh Salaria, who lost by 1.93 lakh votes three years after my husband won by 1.38 lakh votes," she said.
She added, "I know, keeping in view my substantial vote bank, the party will urge me not to contest. However, this time, I will not climb down. I have nothing against Sunny Deol. His family and mine have known each other for long. But I think I am justified when I say the BJP is a party which takes perverse pleasure in ditching its own cadre."
Top News
Describes India and China as 'friendly sovereign global cent...
In April 2016, the then CIC M Sridhar Acharyulu had directed...
He is serving time in a road rage case dating back to 1988
Clashes broke out between two groups in the Kazipara area of...
Sidhu's team in a tweet confirmed his release on April 1