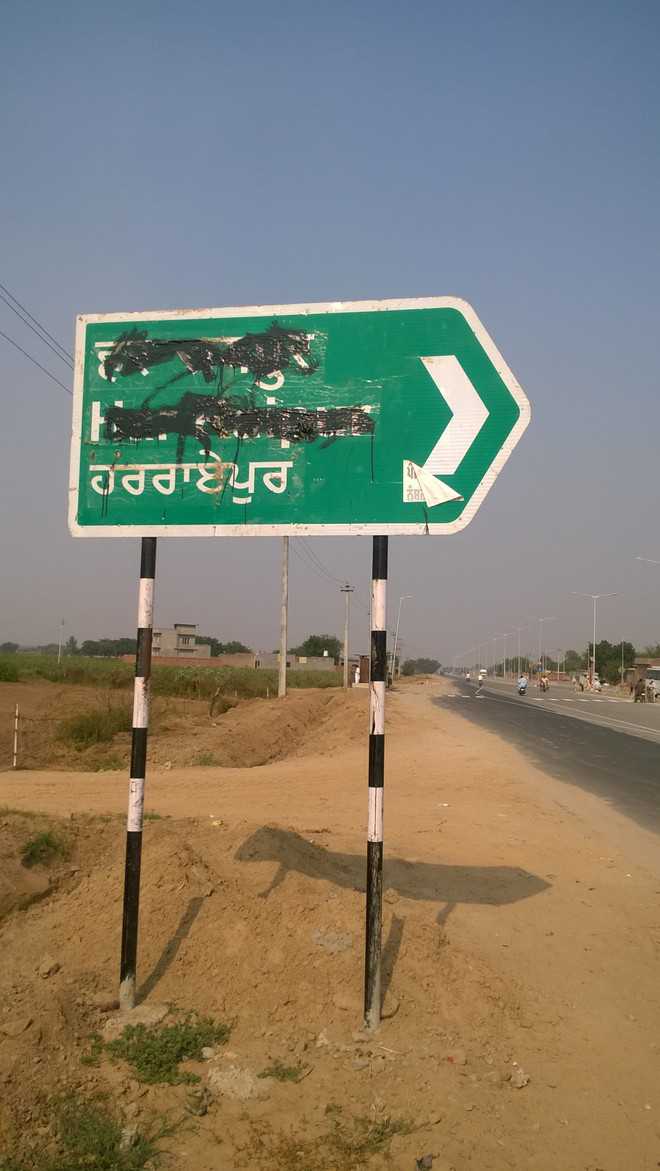 Balwant Garg
Tribune News Service
Faridkot, October 20
Use of Hindi (Devanagari) and English script on milestones along the newly built National Highway-54 has stirred a controversy unidentified persons have defaced these at certain places.
Calling it an attempt by the Union Government to impose Hindi and English on Punjab residents and insulting Gurmukhi script, a voluntary organisation has even served a legal notice on the PWD authorities.
Gurpreet Singh Chandbaja, president, Bhai Kanhaiya Society, said: "We have asked the PWD to replace the milestones or face legal action. The society has also brought the matter to the notice of the Union Ministry of Transport and the NHAI."
Denying that the society members have anything to do with the defacing of the milestones, Gurpreet Singh claimed that the writing of these milestones in English and Hindi had led to confusion due to shoddy translation of names of villages and towns of Faridkot and Bathinda districts.
"By writing the names of places in our mother tongue at the bottom of the milestones with wrong spellings is an insult to Punjabi," said Sarbjit Singh Brar, a member of the society.
"This is against the three-language policy for road signage, vernacular of the particular state, Hindi and English," he said.
PWD officials said it was a policy decision to write the names of the places in Hindi and English on milestones along the NHs. Using only Gurmukhi script is an "unfriendly move" for non-Punjabis who visit the state.
The PWD has raised the matter with the NHAI.