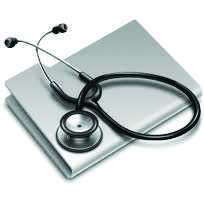 Aditi Tandon
Tribune News Service
New Delhi, October 14
PGI-Chandigarh Director Jagat Ram and Vice-Chancellors of the medical universities of Punjab, Haryana and Himachal Pradesh have made it to India's new apex medical education body, the National Medical Commission (NMC), which will replace Medical Council of India (MCI).
The VC of Baba Farid University of Health Science, Faridkot, Raj Bahadur; VC of Atal Medical and Research University, Himachal Pradesh, Surender Kashyap and VC of Pandit Bhagwat Dayal Sharma University of Health Sciences, Rohtak, OP Kalra are among the 10 VCs selected today to be members of the NMC as part-time members for two years after which a rotation will happen to ensure VCs of other states are represented.
The NMC Act provides for a 33-member commission consisting of full-time members with four-year tenure and part-time members with a two-year term by rotation.
NMC's full time members are — the chairperson, four presidents of autonomous boards (UG education, PG education, medical assessment and medical ethics); three non-medical experts, Director General Health Services; DG, Indian Council of Medical Research and a Health Ministry representative (Additional Secretary Arun Singhal).
Among part-time members are 10 VCs of state medical universities to be selected from among 36 nominations sent by states and nine state medical council representatives to be selected from among 29 nominations sent by all SMCs. One director from among the existing AIIMS-like institutions and two out of the heads of India's five top tertiary institutions that include PGI Chandigarh, JIPMER, North Eastern Indira Gandhi Regional Institute of Health and Medical Sciences, Shillong, and Tata Memorial are also provided to be members of the NMC. In the last category, the government today named AIIMS-New Delhi Director Randeep Guleria as member along with PGI-Chandigarh Director Jagat Ram and Tata Memorial Director Rajendra Badwe.
A draw of lots was also held as per the NMC Act to select 10 VCs and nine state medical council representatives as NMC members. VCs of medical universities of Punjab, Haryana, Himachal, Tamil Nadu, West Bengal, Gujarat, Delhi, Andhra Pradesh, Rajasthan and Dadra and Nagar Haveli made the cut. SMC members from Uttarakhand, UP, Sikkim, Kerala, Karnataka, Arunachal, Maharashtra, Bihar and Manipur made it.
Uttarakhand Medical Council's Ajay Kumar Khanna also cleared the draw held to select one SMC representative to sit in the selection committee that will search eight full-time members, including NMC chairperson. This seven-member search committee will be headed by the Union Cabinet Secretary.
From among nine SMC members, another draw of lots happened to select four nominees each to four autonomous boards. The following were selected —Tripura's JK Dev Verma for UG Education Board; J&K Medical Council's Vijay Gupta for PG Education Board; Nagaland's Sedevi Angami for Medical Assessment and Rating Board and Madhya Pradesh Medical Council's Nishant Warwada for Medical Ethics Board.
---
Hunt on for remaining eight members
Govt has, after Monday's exercise, named 25 of the NMC's 33 members
Health Minister Vardhan said they had received 284 applications for the pending 8 positions — last date for applying is Oct 18
"After this, the search panel will sit and select the eight full-time NMC members," the minister said, adding the government was much ahead of nine-month deadline to get the NMC up and running
Medical council employees to lose jobs
Once the NMC is formed, the jobs of Medical Council of India's existing 100 employees will be terminated. Health Minister Harsh Vardhan said the government will absorb some of the employees and ensure three-month salary plus advance to others to mitigate hardship.