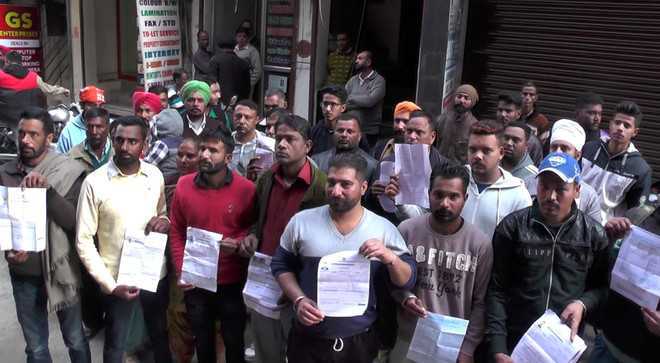 Varinder Singh
Tribune News Service
Jalandhar, July 31
In a bid to save people from falling prey to unscrupulous travel agents, the Ministry of External Affairs has released a list of hundreds of 'fake' travel agents operating across the country.
The MEA list flags 76 such travel agents in Punjab and as many as 22 from Chandigarh and around 13 from Haryana.
The list, however, has created a great deal of confusion among thousands of students, prospective immigrants and agents themselves as no clear reason has been cited for dubbing such a large number of travel operators and facilitators as 'fake'.
Another list of 'Non-Active Recruitment Agents' has also been put up on the government portal—https://emigrate.gov.in —wherein, names and addresses of those travel agents (mainly dealing with employment in gulf countries) have been displayed whose licenses have been cancelled by the MEA.
"The list purportedly issued by the ministry has created clouds of confusion as it fails to make it clear why such people have been described as 'fake' ones and what were their omissions or faults?
Have they cheated or over-charged people? What is their crime? All these things should have been categorically mentioned in the mammoth list so as to put an end to the prevailing ambiguity," said D.P. Sondhi, the former President of Punjab Travel Agents' Association.
Another source confirmed the veracity of the list saying the list was put on the portal only after clearance from the ministry and the government has cautioned people about certain 'fake' agents on the basis of varied complaints received against them.
Parminder Singh, a resident of Rampura Phul in Bathinda district said the list has come as a shock to him.
"I had given Rs. 6.5 lakh to a Mohali based agent who had promised to send my son to Canada on a work permit. But, since his firm's name has figured in the list how will I recover the money from him?
The firm has been dilly-dallying on the issue of returning the money to us for over a year. We were not even allowed by the staff to talk to the firm's owner who is said to be a big shot," said Parminder.
Jot Pal, a student, said there is a lot of uncertainty about the future as his parents have spent a huge sum of money for sending him abroad for studying.
In Andhra Pradesh, 14 travel agents have been found to be 'fake' by the ministry, in Bihar (12), Delhi (85), Goa (1), Haryana (13), Himachal Pradesh (3), Kerala (24), Karnataka (13), Madhya Pradesh (8), Maharashtra( 86), Punjab (76), Odisha (2) Pudducherry ( 1), Rajasthan (15), Tamil Nadu (22), Uttar Pradesh (73), Uttrakhand (4) and West Bengal (16).