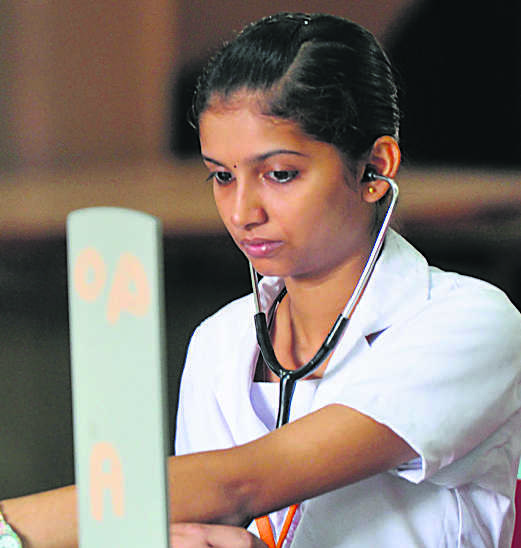 Balwant Garg
Tribune News Service
Faridkot, August 13
As 4,000 of the total 5,500 BSc nursing seats in 109 Punjab institutes are likely to go vacant, private colleges have been pulling out all the stops to attract students for the new session beginning this month.
From complete waiver of first semester fee to reduced overcall charges under scholarship category, the colleges have been doling out varied sops to woo new entrants. Among the other catchy discounts are 50 per cent cut in transportation and hostel fee and two-wheelers at the end of the course for those paying the entire fee in one instalment. Some colleges have even hired commission agents to contact the students with offers.
Why no takers for the course? College owners say Punjab has, in recent years, witnessed unprecedented migration of youth to Canada and Australia after these countries eased immigration norms. Nursing is losing sheen, as did engineering a few years ago, and the colleges have been staring at existential crisis, they say. During the first round of counselling for BSc nursing on August 9,
Baba Farid University of Health Sciences (BFUHS), the nodal agency for admissions to all colleges in the state, could only fill 906 of the 5,500 seats. The university received 2,725 applications and 1,100 of the students cleared the test. While 78 private colleges could only secure 499 admissions, nine institutes, including six in the government sector, admitted 407 students.
With admissions lacking, most of the private institutes have been struggling to even pay outstanding dues to the university. The BFUHS last week put 96 of these colleges on notice citing "deficiencies" on account of inadequate faculty or poor infrastructure. When almost all seats are vacant, how can new faculty be recruited or infrastructure improved, asks an institute owner, worried about the loan he took to open the college, much of which remains unpaid.
Desperate to fill more seats, the BFUHS has invited students from any part of the country (they must have appeared in 10+2 medical exam) to seek admission in Punjab. Not only BSc, MSc seats, too, have been going abegging. Twenty-eight nursing colleges in Punjab offer 535 MSc seats, but only 350 applicants took the entrance test and 141 cleared it.
HC Rawat, BFUHS Dean (Exam) of Nursing, said they are hopeful of filling 500 more seats in the next round of counselling. Punjab Medical Education Minister OP Soni did not respond to repeated calls.
---
Dwindling numbers
22 institutes haven't got even a single new admission
25 institutes have secured one or two fresh admissions
10 colleges have been able to get three students each — 109 institutes in all in state