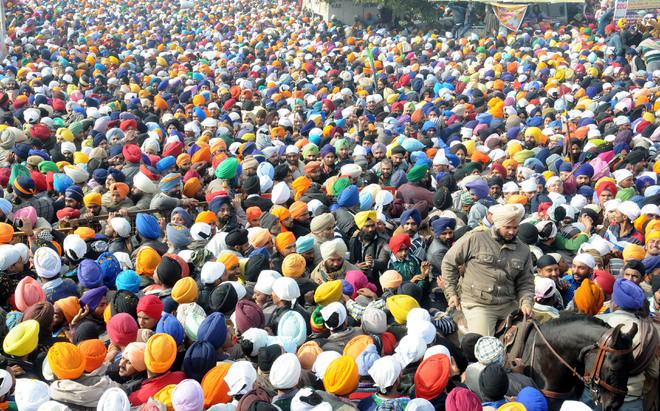 Sarbjit Dhaliwal
Tribune News Service
Chandigarh, August 26
Of all communities, Sikhs have reported maximum decline in population, according to the religion-based census data (2001-2011) released by the Centre yesterday.
The decadal growth rate in Sikh population was pegged at 24.3 per cent in 1991, which fell to 18.2 per cent in 2001 and further to 8.4 per cent in 2011. The fall in 2001-2011 is 9.8 per cent when compared with the 1991-2001 census — 15.9 per cent in two decades. For Hindus, the decline in growth rate is 3.5 per cent, Muslims 4.9 per cent and Christians 7.1 per cent for 2001-2011.
Aswini Nanda, demographic expert, says migration of Sikhs to countries such as the US, the UK and Canada was the main reason for fall in their population. He said a significant number of Sikhs had also moved to Italy and Australia — two new destinations for the community. Many of them are also settled in Norway and some other countries in Europe, he said.
Other reasons being cited by experts include prosperity. Sikhs were reportedly more prosperous and adopted family planning schemes earlier than others. A reason for switching to smaller families may be the shrinking land holdings, which they decided not to divide further.
The share of Sikhs in the country's population has come down to 1.7 per cent in 2011 against 1.9 per cent in 2001. Their number is pegged at 2.08 crore — fourth on the population chart. The first slot goes to Hindus with 79.8 per cent proportion of the total population, Muslims with 14.2 per cent are placed at number 2 and Christians with 2.3 per cent are third.
In Punjab, the Sikh population has fallen to 57.7 per cent in 2011 as compared to 59.9 per cent in 2001, while that of Hindus has grown to 38.5 per cent from 36.9 per cent.
In Chandigarh, the Sikh population has come down to 13.1 per cent in 2011 from 16.1 per cent in 2001. Same is true for Delhi and Haryana. In Delhi, it fell from 4 to 3.4 per cent and from 5.5 to 4.9 per cent in Haryana. In J&K, the Sikh population stands at 1.9 per cent, in HP at 1.2 per cent, Uttarakhand at 2.3 per cent, and Rajasthan at 1.3 per cent. In almost all other states, it is varies from 0.1 per cent to 0.3 per cent.
Top News
Bills were passed after more than six hours of debate spanni...
Among the 10 who put in their papers are nine Lok Sabha MPs,...
Resignation of Union ministers also revived speculation of r...
The withdrawal of statement by MP Senthil came when the Hous...
The Punjab DGP office had written a letter to Rajashthan Pol...