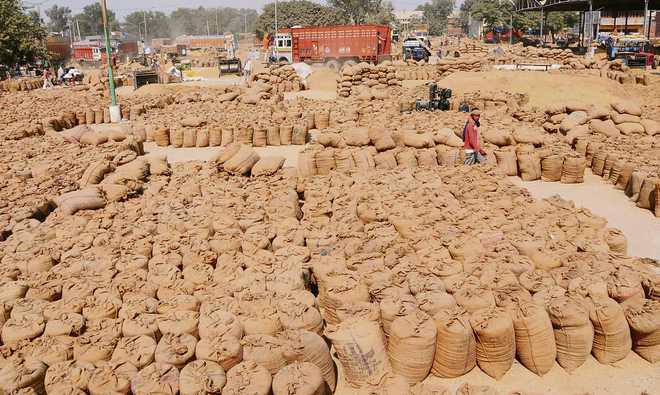 Perneet Singh
Tribune News Service
Bathinda, October 20
Farmers are having a tough time in the region's grain markets due to high moisture content in their paddy produce while they allege that moisture meters of the purchase agencies have only added to their woes.
Talking to The Tribune, Darshan Singh, a farmer from Jassi Pauwali village, said, "I have been waiting for the purchase of my paddy for the last five days, but the agencies are saying its moisture content is high. The procurement agency and rice sheller representatives, armed with separate moisture meters, had come to purchase it a couple of days ago. However, both the meters were showing different readings. While one of them showed moisture content at 22, the other put the figure at 26. I am clueless what to do now."
He said he had been drying up his paddy in the sunlight for the last four days and it seemed completely dry to him. He was now waiting for the moisture content to dip to the permissible limit of 17.
Harpreet Singh, another farmer, said his paddy, too, had high moisture content. He also echoed similar sentiments regarding two moisture meters showing varied readings.
When contacted, Bathinda Deputy Commissioner Praneet said the farmers should only go by the moisture meter reading of the government agency official. He said he was not aware of the rice sheller representatives also checking moisture content in the grain market.
Meanwhile, there are reports that Punjab farmers from areas bordering Haryana are selling their paddy produce in the neighbouring state (Haryana), where they find the scenario a bit lenient when it comes to procuring paddy with high moisture content. Sources said farmers from Mansa district were heading with their paddy to Haryana's purchase centres like Brahmanwala, Ladhuwas, Babbanpur and Mahindoke, which were close to the interstate border.
The BKU Ekta Ugrahan Mansa district president, Ram Singh Bhainibagha, also confirmed the trend. He said they had even resorted to protest recently after paddy with high moisture content was not allowed to be unloaded at the Bareta grain market in Mansa. He warned that more paddy from Punjab would be sold in Haryana, if the state government did not relax the norms regarding the moisture content.
On the other hand, Mansa Deputy Commissioner Apneet Riyait said she had asked the SSP to enhance vigil at the nakas and ensure that paddy-laden trolleys from Punjab were not allowed to cross over to Haryana. Besides, she said, they had also taken up the matter with the Fatehabad Deputy Commissioner, urging him to look into the matter and also initiate action against the arhtiyas who were indulging in these practices.
---
Farmers protest poor facilities in mandis
Muktsar: Irate over the "poor arrangements" in grain markets, farmers on Saturday lodged a protest near Jhabelwali village by blocking the Muktsar-Kotkapura highway for over two hours. They said the state had not made adequate arrangements for stubble management. They said the rice millers were not lifting paddy citing high moisture content. tns
Top Stories