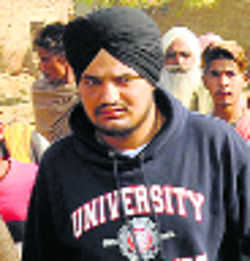 Sukhmeet Bhasin
Tribune News Service
Bathinda, September 20
Anger is brewing among the Sikh community against Punjabi singer Sidhu Moosewala for using the name of Mata Bhag Kaur (Mai Bhago) in his latest song "Jatti Jeone Morh Wargi".
Sikh delegations met the SSPs in Bathinda and Mansa districts, demanding the registration of a case against the singer for hurting their religious sentiments and a ban on the controversial song.
In Mansa, Harjinder Singh Bhikhi and Sukhchian Singh Atla have filed a complaint with SSP Narinder Bhargava. In the complaint, they have alleged that Moosewala had misused the name of Mai Bhago in his recent song and had even used "objectionable" words, which had irked the Sikhs.
In Bathinda, a delegation headed by Dal Khalsa district president Baba Hardeep Singh Mehraj met SSP Nanak Singh and lodged a complaint against the singer. He is also facing the ire of the Sikhs over the issue on social media. People are raising their voice and giving a call to boycott the singer.
Akalis demand ban
Chandigarh: The Akali Dal strongly condemned Moosewala for showing Sikh martyr Mai Bhago in bad light in his latest song. The party asked the state to immediately ban the song and ensure a stern action against the culprits by registering a criminal case. It urged the state to issue appropriate directions to the entertainment industry on the portrayal of the Sikh martyrs.
Apologises on social media
Sidhu Moosewala, in a video posted on his social media account on Friday, apologised for using the name of Mai Bhago in his new song and said he would delete the paragraph. He said he wanted to convey some meaning through it, but was perceived wrongly. He said his motive was not to disrespect Mai Bhago or hurt anyone, but he accepts his mistake.
Top Stories