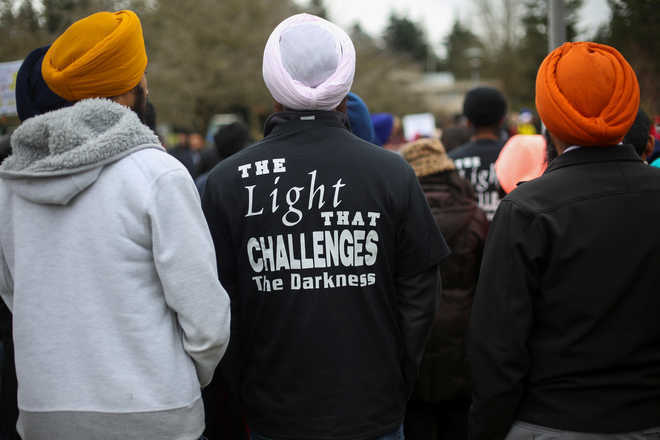 New Delhi, September 13
The government today said it had "reviewed" its "adverse list" of foreign nationals and removed the names of 312 persons belonging to Sikh community, but refused to reveal the names claiming "legal impediment".
The persons, whose names have been removed from the list, would also be eligible to apply for registration as Overseas Citizen of India (OCI) cardholder after fulfilling the required conditions, the officials in the Ministry of Home Affairs (MHA) said.
They said the government reviewed the "adverse list" containing names of 314 foreign nationals belonging to Sikh community and brought it down to just two.
When asked pointedly about the names of the two persons, who continue to be part of the adverse list, the officials said, it can't be done owing to "social and legal implications" attached with the issue. "The list maintained by the government and access is given to our missions abroad only for the purpose of granting Indian visas to foreign nationals only," a senior official said.
The officials said the review was a continuous and dynamic process and part of a regular exercise. Such a review would give opportunity to such Sikh foreign nationals to visit India, meet their families and reconnect to their roots, they added. "During 1980s, many Indian and foreign nationals belonging to the Sikh community fell to anti-India propaganda. Some Sikh Indian nationals fled the country to escape authorities, became foreign nationals and took asylum outside India. They were placed in the adverse list till 2016, making them ineligible to avail visa services to visit India," the official said.
DSGMC president Manjinder Singh Sirsa and SAD Delhi chief Paramjit Singh Sarna have welcomed the Modi government's decision. — TNS
---
Our efforts paid off
"The decision was taken by the Centre in response to the state government's persistent demand and efforts. The government has also discontinued the practice of maintenance of local 'adverse' lists by Indian Missions." — Capt Amarinder Singh, Punjab CM
Sukhbir hails move, claims credit
"The list was created by Congress regimes... It is the culmination of the efforts of former CM Parkash Singh Badal and the SAD which consistently followed up this issue with the NDA government." — Sukhbir Singh Badal, SAD Chief