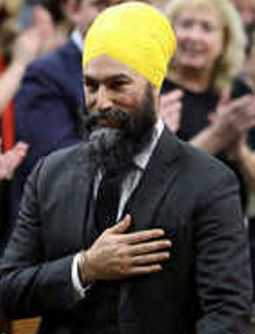 Varinder Singh
Tribune News Service
Jalandhar, July 18
In his bid to gain some ground in a relatively "un-chartered territory", New Democratic Party (NDP-Canada) chief Jagmeet Singh is undertaking a quick roadshow of some ridings (seats) of Quebec, launching his campaign ahead of his rivals for the October 21 Canadian federal polls.
Jagmeet's NDP was just holding 15 seats in Quebec. But, he was hopeful of at least increasing the numbers or at least his party's vote share by holding his road trip.
After kick-starting his roadshow from Montreal, Jagmeet visited Sherbrooke. After this he will be trying his luck in central Quebec ridings of Berthier–Maskinongé, Trois-Rivières and Drummond. These quick road stops will be in nearly half of the 15 seats held by the NDP, but where the party support base has got "eroded" sharply as per some pre-poll surveys.
The NDP, according to a survey, was just enjoying a "meager" 9.4 per cent support in Quebec or at fifth place after Liberals who still hold 32.8 per cent share, Conservatives 23.5 per cent, Bloc Québécois 18.5 per cent and the Greens 11 per cent. The biggest hurdle before Jagmeet is that he does not apparently have the level of "connect" with people of Quebec which top party leaders like Jack Layton had in the province even as the edge for Layton had come that no other national party was being led by a Quebecer, which won't be the case this time around.
In Sherbrooke, the NDP had managed to stage victory by a margin of eight points in 2015, when the party had won Drummond by only four points after losing 21 percentage points since 2011. Trois-Rivières was another seat the NDP had barely managed to hold its ground in 2015, with Robert Aubin's support eroding by18 points. He also could face a stiff challenge from the Conservatives this time for the latter have put up long-time mayor Yves Lévesque as their candidate.