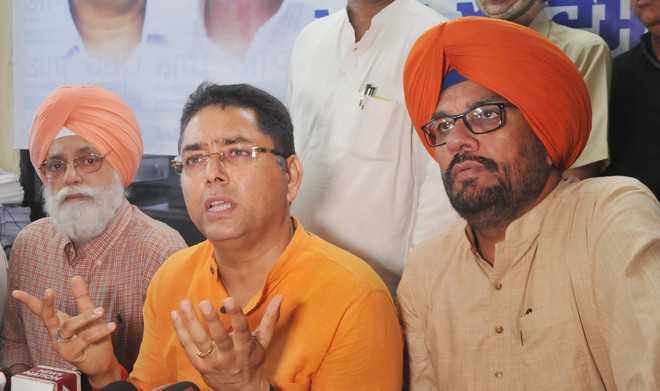 Tribune News Service
Amritsar, April 19
With an aim to replicate the 'Delhi model', the AAP has decided to prepare separate manifestoes for each constituency of the state.
Sunam MLA and party poll campaigning committee chairperson Aman Arora today said the party would focus on addressing agrarian crisis, drug menace and revival of industry. "In terms of health, power, water supply and education sectors, our core committee is preparing a roadmap on the Delhi pattern which has brought social transformation and revolution. Our constituency-specific manifestoes in the state would be designed keeping in view the specific local issues," he said.
He emphasised that there was a dire need to have a special economic package for the border belt of Amritsar-Gurdaspur-Tarn Taran to fight unemployment. "Punjab can be divided into different clusters to set up agro-industrial zones keeping in view the region's specialities like in Abohar and Fazilka belts, the citrus fruit industry could be established; in Hoshiarpur, the floriculture trade can prosper. In Bathinda, the cotton industry could be given boost by creating land banks wherein the farmers could be roped in to let them do cultivation under special subsidised schemes," he said.
On the issue of allegedly scuttling sacrilege probe, he said AAP has approached the Election Commission against the removal of SIT member IG Kunwar Vijay Partap Singh. "I believe that the SAD, with the assistance of the Modi government, managed it in its favour. We will raise this issue," he said.