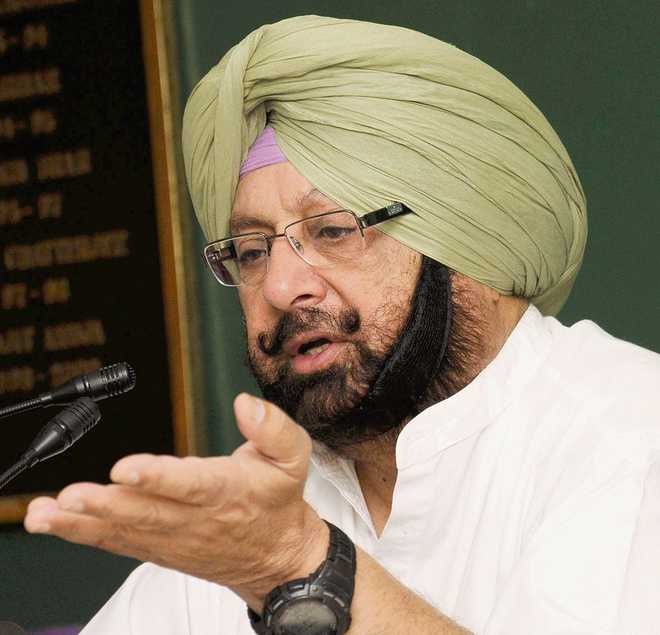 Deepkamal Kaur
Tribune News Service
Jalandhar, August 14
Having already supported the Dalit activists who organised Punjab bandh yesterday, Chief Minister Capt Amarinder Singh today said no FIRs would be registered against them for blocking the highways for eight to 10 hours during the bandh.
Giving a leeway to the protestors, who were agitating against the demolition of Guru Ravidas Temple in Delhi, the CM, who was with minister Charanjit Singh Channi, said, "We have to look from case to case. There has to be a basis to register a case. The Dalits were emotionally disturbed. It was their 500-year-old temple which was demolished. It could have been a church or a mosque too. It was all reactionary."
He added, "No doubt this was a Supreme Court order and we have to accept it. But before it came to this stage, it should have been taken care of. As many as 30 per cent of Punjabis are from this community."
On hooliganism that they indulged in, he said, "When such things happen, the youth will do whatever comes to them. Bache tan bache hi ne, chahe jinna vi samjhalo. (Kids will remain kids. However hard you may try to counsel them)."
The CM also announced to lead a delegation of the Ravidasia community to meet the Prime Minister for resolution of the crisis triggered by the demolition of their historic temple. The CM, who met Sants and leaders of the community at Punjab Armed Police today, acceded to their request to lead them for a personal meeting with the Prime Minister to seek the latter's intervention in the case.
During the meeting, the Chief Minister also promised to look into the demand of the leaders for withdrawal of the five cases against members of the community for the 2009 violence in Jalandharduring protests against firing at the head of Dera Sachkhand Ballan and his close associate in Vienna.
The community was represented by 25 Sants, including Shri Guru Ravidas Sadhu Sampardai Society President Sant Kulwant Ram, Vice-President Sant Gurdip Giri, Chairman Sant Mohinder Pal, General Secretary Sant Nirmal Singh as well as Dera Sachkhand Ballan Sant Lekhraj.
'They were emotionally disturbed'
There has to be a basis to register a case. The Dalits were emotionally disturbed. It was their 500-year-old temple which was demolished. It could have been a church or a mosque too. It was all reactionary. —Capt Amarinder Singh, Chief Minister