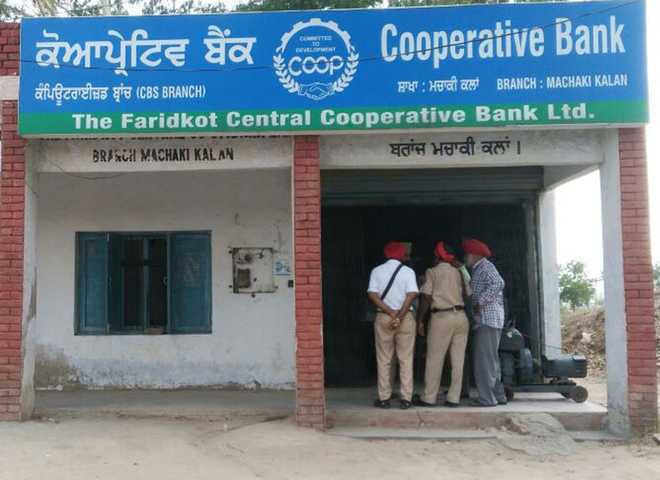 Ruchika M Khanna
Tribune News Service
Chandigarh, May 28
The Cooperative Department has asked the banks to go slow on the recovery of crop loans from farmers, but speed up the recovery of non-farm loans availed by them as well as other borrowers.
The decision comes in wake of hue and cry being raised by farmers and farm unions over the loan recovery initiated by cooperative banks, especially in Bathinda, Mansa and Barnala districts.
Official sources told The Tribune that the government does not want to agitate the farmers and it was decided not to use coercive methods for the recovery of farm loans. On the same pattern, the cooperative banks had been instructed not to show any laxity in recovering non-farm loans availed by the farmers.
Figures available with The Tribune reveal that of the total non-farm sector credit advanced by the Punjab state cooperative banks, loans to the tune of Rs 4,582.6 crore are due (where periodic installments of loans are due), of which Rs 564.88 crore is overdue as on March 31 (farmers who have defaulted on repayment).
Similarly, the dues of Punjab State Agriculture Development Bank in non-farm loans are Rs 1,837 crore, of which Rs 1,363 crore is overdue. "It is the overdue loan that the banks have been told to recover from farmers," said a senior government official.
Sources say the recovery is to be made on priority from among the oldest outstanding loanees and the largest outstanding loanees. As a result, these loanees are now being hauled up by cooperative bank officials and many of them, including those with political connections like SAD leaders Dyal Singh Kolianwali, Bhupinder Pardhan and Raghbir Singh (to name a few).
"These defaulters have been offered a settlement, wherein they have to pay one-third of the overdue amount immediately and the remaining in two installments over the next one year by linking these installments with the crop harvesting cycle," said a senior official.
Department officers as well as cooperative banks say coercive methods like filing of cases under Section 138 of the Negotiable Instruments Act (cases of cheque bounce) are being filed only in cases where loanees have defaulted in the repayment of non-farm loans. "The banks are also answerable to the RBI, if the non-performing assets rise. Thus, efforts have to be made to recover non-farm loans," said a senior bank official.
Top News
Rana Gurmit Singh Sodhi, Manoranjan Kalia and Amanjot Kaur R...
CM Bhupesh Baghel had earlier accusing the probe agency of c...
Secretary of State Antony Blinken emphasises that Biden Admi...
Gurpatwant Pannu, head of the banned terror outfit Sikhs For...
Satinderjeet Singh, alias Goldy Brar, is a member of Lawrenc...