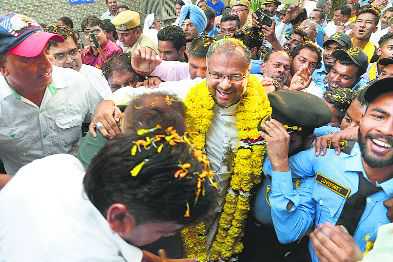 Deepkamal Kaur
Tribune News Service
Jalandhar, October 17
Having remained in Kerala jail for 21 days in a rape case filed by a nun and released on conditional bail, Bishop Franco Mulakkal returned to the city on Wednesday. He was greeted by his supporters. Though he had been relieved of his pastoral duties by the Vatican about a month ago, he announced that he would still retain the title of "Bishop of Jalandhar Diocese" and that Auxiliary Bishop of Archdiocese Bombay Agnelo Rufino Gracias would only be the administrator.
Bishop Franco claimed that both of them would be putting up in the Bishop House and he needed the assistance of Bishop Gracias to handle administrative matters. "I want to handle my case myself. For this, I need to be physically and mentally free to concentrate on my matters. But I will be attending ceremonies and prayers whenever I will be available. I will be going to Kerala only on alternate Saturdays to appear before the inquiry officer as per the condition in the bail. This will go on for two months or till the filing of chargesheet by the police, whichever is earlier," he told mediapersons soon after presiding over the holy mass. Bishop Gracias welcomed him, but did not attend the mass.
Bishop Franco was welcomed by pastors and nuns of congregations falling under the Diocese and various NGOs working under it. A feast was arranged for the visitors.
As he entered the Bishop House, Bishop Franco first went to the Sacred Heart Church. There he held an hour-long prayer after which he appealed to everyone to participate in a relay fast prayer for him at the Prarthana Bhawan.
Addressing the gathering in Punjabi, he also shared his experiences before the inquiry team and his stay in jail. "I knew about my arrest on the third day of the probe. So I went prepared. I wore a T-shirt under my robe as I would not have gone to jail in my pastoral dress...There will be many court proceedings after this too and I will fully cooperate in the matter," he said.
A nun had accused Bishop Franco of sexually assaulting her repeatedly between 2014 and 2016.
The bishop had, however, dismissed the allegations as "baseless and concocted", insisting that she levelled those as the catholic order had rejected her demand for favours.