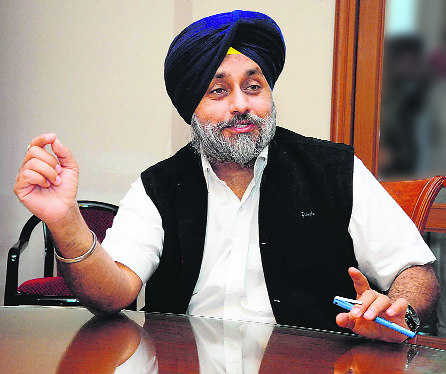 Rajmeet Singh
Tribune News Service
Chandigarh, August 21
The Privileges Committee of the Punjab Vidhan Sabha wants the Lok Sabha to take a call in a case of breach of privilege by former Deputy Chief Minister and SAD chief Sukhbir Singh Badal, who has been held guilty of misleading the House during the 2018 monsoon session.
"Since Sukhbir has resigned as an MLA after being elected as Ferozepur MP, the Privileges Committee of the state Assembly yesterday decided to forward the case to the Privileges Committee of the Lok Sabha," a committee member said.
Last year, a panel of the Punjab Vidhan Sabha, headed by Cooperatives Minister Sukhjinder Singh Randhawa, while verifying the claims by the Akali Dal leader with regard to meetings between radical Sikh leader Baljit Singh Daduwal and Chief Minister Amarinder Singh at the latter's residence and at a farmhouse in New Chandigarh, had submitted that all allegations levelled by the Shiromani Akali Dal president were false.
The committee had condemned Sukhbir for his "irresponsible" attitude to mislead the legislative Assembly by presenting unverified wrong facts. The report read: "Sukhbir might have done such misleading act just to divert people's attention from the Justice Ranjit Singh Commission's report indicting the Shiromani Akali Dal on sacrilege and October 2015 police firing cases."
After going through the CCTV footage procured from the CM's special protection unit, the committee found that Daduwal did not visit the Chief Minister's residence on June 26, 2018, between 7 and 9 pm, as claimed by Sukhbir.
It has also come to fore that during the home department's probe that tower location of mobile numbers mentioned by Sukhbir in his allegations did not exist at the site. The panel has found that one of the mobile numbers mentioned by Sukhbir was not in Akal Takht jathedar Dhian Singh Mand's name and that mobile number was not operational.
Before Sukhbir was elected as an MP, the Privileges Committee headed by Faridkot MLA Kushaldeep Dhillon had summoned the SAD chief four times, but he failed to appear.
Top Stories