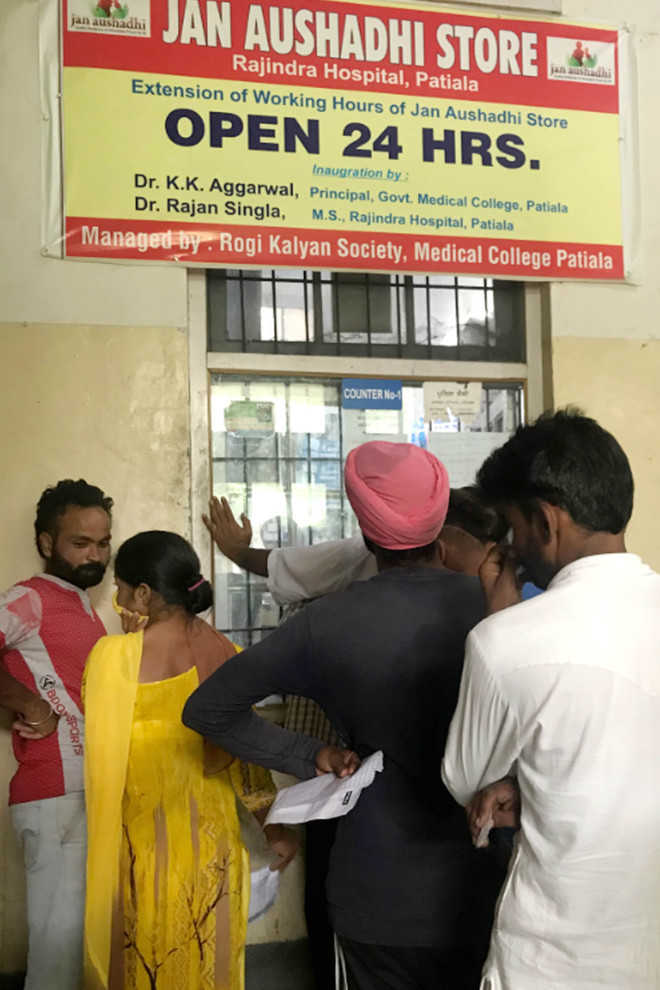 ram Prakash
Tribune News Service
Patiala, July 12
Patients at Government Rajindra Hospital are forced to run to private shops for medicines. Reason: Hospital, wherein poor patients from the Malwa region and neighbouring state of Haryana come for treatment, is found wanting, even for basic medicines and material such as gloves and syringes. Sadly, the patients at the hospital said this was a regular affair.
The state government's claims of providing free-of-cost medicines to patients at hospitals stand belied here.
On Friday, Tara Singh of Mansa district, who accompanied his ailing brother, was instructed to buy medicines from outside because the hospital had run out of medicines.
Ironically, he is not alone. Every day scores of poor patients have to somehow manage thousands of rupees from their own pocket to purchase medicines.
Notably, the hospital, sometimes, doesn't even have Paracetamol — a medication for pain and fever.
Tara Singh said, "Yesterday, I purchased medicines worth Rs 1,450 and today, I have to spend around Rs 700 for the medical items — including gloves and syringes — which are a must at any health centre." "The current state of affairs at the Rajindra hospital, indeed, further strengthens the negative perception of the public healthcare system."
On Wednesday, farm labourer Paal Singh (60) spent over Rs 5,000 on medicines and tests for the treatment of his one-week-old grandchild.
However, facing medicine shortage, the hospital authorities, in May, started 24x7 Jan Aushadhi store, which provides medicines at less price.
Talking about lack of medicines at the hospital, Medical Superintendent Rajan Singla said there was a shortage of medicines due to delay in the releasing of the same from the warehouse.
Singla said he had a meeting with Additional Chief Secretary (Health) Satish Chandra last month over the issue of the shortage of medicines. He (MS) said they had written a fresh letter to the secretary requesting that the government should purchase medicines at the earliest and make available to the hospital.
"I hope the government will provide the medicines soon. He (Secretary) has assured us that medicines in the essential drug list will be made available at the hospital soon." Singla, however, claimed that there was no shortage of medicines in the emergency ward.
Top News
Chennai airport operations suspended from 9.40 am to 11 pm
Group of militants on their way to Myanmar ambushed by anoth...
Court of Inquiry ordered to ascertain the cause of accident
This will be the first time in history of Mizoram that the s...
Punjab MP was suspended on August 11