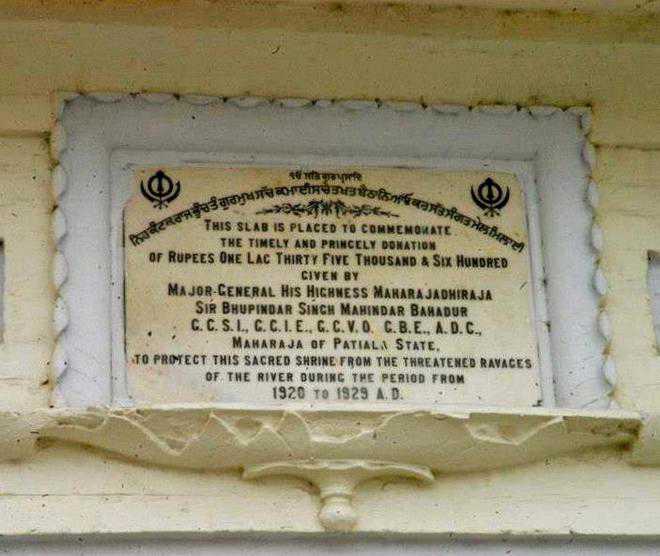 Varinder Singh
Tribune News Service
Jalandhar, November 28
Gurdwara Darbar Sahib in Kartarpur Sahib (Pakistan) was reconstructed during the reign of the then Maharaja of Patiala Bhupinder Singh at a cost of Rs 1.35 lakh in the 1920s.
As the gurdwara building was in a poor condition, the Maharaja had taken the initiative to rebuild the shrine in the town where Guru Nanak Dev spent the last years of his life.
The Pakistani authorities have been displaying a glass case containing a shrapnel of a bomb in the shrine's courtyard. A plaque next to it reads that the bomb was dropped by the Indian Air Force during the 1971 war. The shrine, the plaque says, was saved as the bomb had landed in the well on its premises.
The Kartarpur corridor was earlier envisaged when Gen Pervez Musharraf was the President of Pakistan. A tender was floated, following which 50 per cent of the road for the corridor was constructed on the Pakistan side.
The then Chief Minister Capt Amarinder Singh had offered a golden palanquin in 2005 after paying obeisance at the gurdwara.
In 2017, a Parliamentary Committee led by Congress MP Shashi Tharoor had ruled out the construction of the corridor, citing security issues and India-Pakistan hostilities.
Kartarpur Sahib is considered to be the oldest Sikh shrine in the world. Its foundation stone was laid in 1572. Maharaja Ranjit Singh had got its dome gold-plated, besides offering a palanquin. The existing structure, it is learnt, was raised by Lala Shayam Dass in 1911.
Top Stories