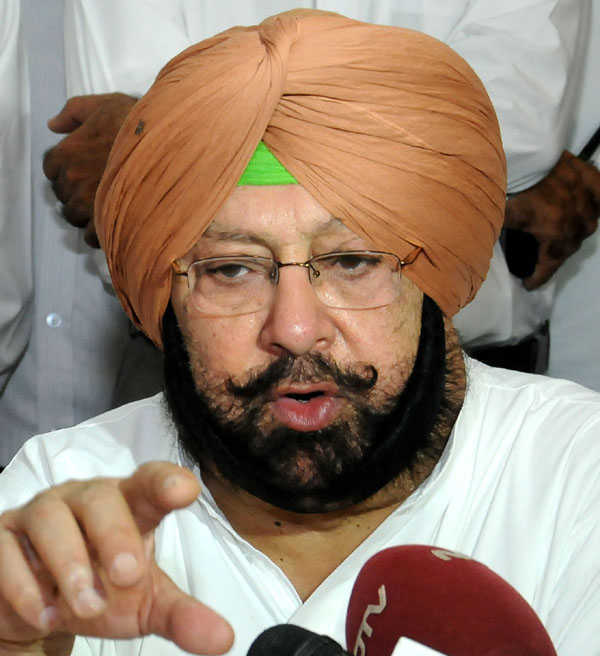 Tribune News Service
Chandigarh, February 12
Chief Minister Amarinder Singh on Tuesday called Akali's support to farmer protests outside Vidhan Sabha "petty politics with an eye on Lok Sabha elections".
Lashing out at the Akalis for their walkout from Punjab Assembly during Governor VP Singh Badnore's opening speech, Capt—as the chief minister is popularly called—said the Akali government under his predecessor Parkash Singh Badal had failed to do much to alleviate the crisis in their 10 years of governance , but were now "resorting to all kinds of cheap tactics" to mislead farmers.
The chief minister claimed his government had already helped 5.83 lakh farmers with its debt relief scheme and would soon cover all 10.25 lakh small and marginal farmers in the state, adding that the Akalis' attempts to "undermine these efforts would backfire on them".
"The Opposition walkout was a clear case of 'badtameezi' (rudeness) against the head of the state," Amarinder Singh said in an informal chat with the press after the Governor's speech. "The problem with the Opposition is that it has no issues to raise in the House and are trying to divert public attention by making noise on non-issues," he said.
"They (the opposition) need to function in line with the democratic principles on which the parliamentary institution is founded if the Constitution of the country is to be upheld," Captain Amarinder said, asking the opposition to "play a constructive role in the interests of the people of the state".
The chief minister's remarks comes a time when growing agrarian distress and farmer suicides have led to protests against his government. Families of farmers who killed themselves over rising debts sat outside Punjab Assembly accusing Amarinder Singh's government of reneging on his debt waiver promise.
Responding to a question, Singh said a SIT team set up on the recommendation of the House was investigating Behbal Kalan firing, and action would be taken only after investigations were complete. "Whoever is found guilty of the crime against innocent people would be punished," he said.