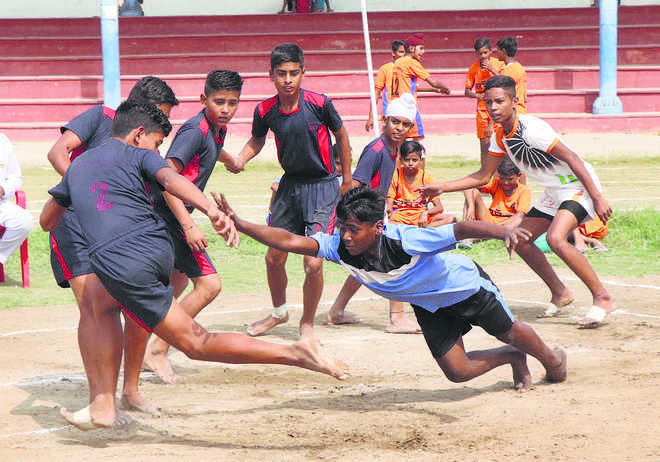 Sanjeev Singh Bariana
Tribune News Service
Chandigarh, October 18
Making a mockery of norms governing the ongoing Punjab state-level inter-district school games, overage players have been caught matching their skills with younger counterparts on the playground, particularly in kabaddi.
An internal inquiry has found three schools—Manu Vatika School Budhlada, (Mansa); Punjab Convent School, Jhunir (Mansa) and Modern Secular Senior Secondary School, Ladal (Sangrur)—sending two overage students each, mostly having completed studies in Haryana, for the under-14 games.
Already, an Assistant District Education Officer (AEO), a coach and a principal of a government school with a sports wing in Gurdaspur district have been suspended for allegedly manipulating the age of participants in the tournament.
\After the authorities cracked the whip, certain teams are learnt to have sent back their controversial players. Twenty-two teams representing districts and two representing the state sports wing are participating in the event, being organised across Punjab.
The inquiry was initiated after sportspersons were spotted who physically didn't appear to be under 14 years, with some sporting beard. The verification of the students was done by the DPI (Haryana) (see box on page 1) and most of them were found to have completed Class X, said sources. The office of Punjab Secretary (School Education), Krishan Kumar, has decided to cancel the NOC of the two schools in Mansa and forward it to the CBSE for cancelling their affiliation. It has also begun the process to cancel the PSEB affiliation of the third school in Sangrur. The department has also asked officials concerned to register cases against the parents for "furnishing false documents".
Punjab Convent School Principal Pallavi said, "The data given to us by the parents of the both the students showed they had earlier studied at nearby Government School, Kot Dharmu. We checked their Aadhaar and admitted them. We didn't suspect the Haryana connection." The authorities of the two other schools couldn't be reached despite repeated attempts.
A member of the inquiry team said, "Schools engaging overage players from outside, particularly in kabaddi and wrestling, is a unspoken truth … It's an injustice to the genuine players. Hence, we have recommended strict action."
---
Haryana-DPI sets record straight
A player shown as a Class IX student in Punjab had, in Haryana records, done Class XII from Kaithal in 2017-18 session
Another boy shown studying in Class VII in a Punjab school had completed the same class from Kaithal in 2016-17