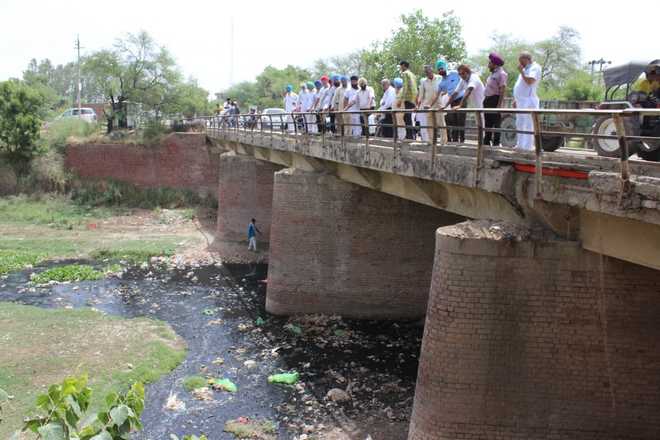 Tribune News Service
Sangrur, June 30
Despite the tall claims to contain pollution in various rivers of the state, seasonal rivulet Ghaggar is still causing serious health problems among residents of villages located near its banks as various towns continue to discharge waste in it.
On Sunday, members of various NGOs visited the affected areas, including Baupur, Banarasi, Andana, Shahpur Theri, Chandu, Mandavi, Makraud Sahib and Phuld villages, and will send a report to the state government for action. They have announced to organise a state-level protest in front of the Punjab Pollution Control Board's (PPCB) Patiala office on July 22 if the authorities fail to take a quick action.
AS Mann, a member of an NGO, said: "Residents of many villages located on the banks of the Ghaggar are suffering from cancer and other kidney and skin diseases. Moreover, industries continue to discharge waste into the rivulet. The residents have repeatedly written to the Chief Minister and the PPCB, but to no avail. We will launch a campaign to save them and fight for them."
When contacted, Sanchin Singla, subdivisional officer, PPCB, said not a single industry of Sangrur had been discharging waste into the Ghaggar. "Mainly Haryana-based industries are discharging their waste into the Ghaggar and we are trying our best to prevent it by repeatedly taking up the matter with the authorities of the neighbouring state."
Top News
Had complained to PM Modi about the activities of Brij Bhush...
Section 124A of the Indian Penal Code dealing with sedition ...
The postings and transfers of the officers have been made on...
'We are distressed and disturbed at the unseemly visuals of ...
The representatives of various khaps and farmers' outfits re...