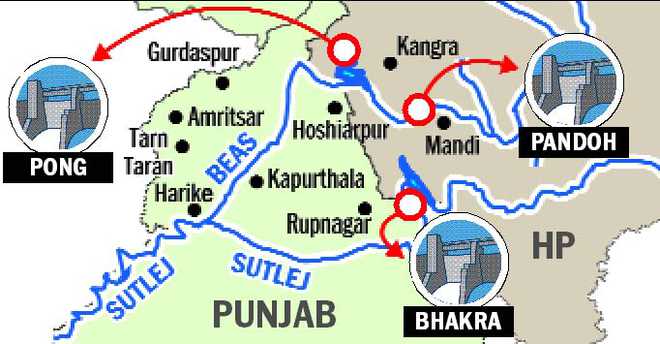 Vijay Mohan
Tribune News Service
Chandigarh, September 24
While the entire inflow owing to heavy rains in Himachal Pradesh has been contained at the Pong dam — on the rain-fed Beas — its spillways are expected to be opened in the next 48 hours to release excess water in a controlled manner, if rains continue. Water would be released once the levels downstream recede to avoid flooding.
Entering Punjab via Himachal Pradesh's Kangra district, the Beas flows along the borders of Hoshiarpur and Gurdaspur districts and Kapurthala and Tarn Taran districts, thereafter entering Ferozepur district to join the Sutlej at Harike. The water level at Pong was recorded at 1,385.56 feet, an increase by about 10 feet over the past two days since the rains began lashing the region.
But the Bhakra dam, that lies on the Sutlej, has not been much affected. Water at the Bhakra rose by about 4 feet in the past two days to 1,654.84 feet, well below the maximum level of 1,680 feet.
The BBMB expects the water at Pong level to touch 1,390 feet by Tuesday morning, the dam's designated upper limit. A cushion of 4-5 feet is available above this level. Though the rains are predicted to stop by then, the impact of the downpour will remain over the next three-four days with excess water flowing down from higher reaches.
STORAGE IN BOTH DAMS WAS BELOW NORMAL TILL LAST WEEK
Inflow at Pong was 7,910 cusecs on Sept 22, which jumped to 1,66,559 cusecs by Monday morning
The outflow came down from 11,507 cusecs on September 22 to just 810 cusecs on Monday morning
The storage at Pong increased by about 9 per cent in the past two days, Bhakra saw an increase of 3 per cent
The storage in both the dams was below normal till last week, which had been a cause for concern
The inflow at Pong dam touched 1.10 lakh cusecs in the past two days, which by itself is not alarming
The high volume of sediment and debris flow, however, is worrying, say BBMB officials
"Normally it is 2,100 ppm, which spiked to 40,000 ppm. This could choke the reservoirs and also damage tunnels and machines in the dam," they say
Top News
Severest of severe action taken: CM | Amritpal's lawyer alle...
BJP slams Cong for skipping RS Chairman's meeting
White House refuses to comment on claim