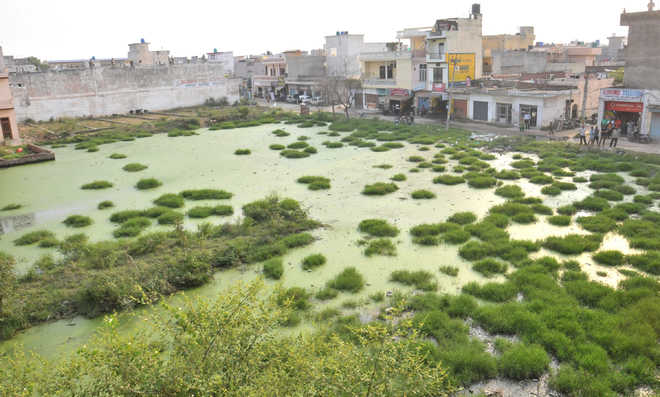 Sanjeev Singh Bariana
Tribune News Service
Chandigarh, April 25
Following The Tribune report "Stinking reality of villages' open sewers" published on April 16 on pitiable condition of village ponds in the state, the Punjab Pollution Control Board (PPCB) has directed the Department of Panchayat and Rural Development to ensure the cleaning of village ponds by June.
The directorate has been asked to personally supervise the cleaning work in approximately 20,000 ponds located in 12,000 villages all over the state.
The official communication from PPCB Chairman Kahan Singh Pannu asked the Director (Rural Development and Panchayat) to ensure that "all ponds are cleaned in two months and the water and siltation be scattered in the open fields".
At the same time, village panchayats contacted for a feedback said the government move was impractical because a majority of villagers would not allow untreated pond water to flow into their fields.
Sarpanch Nazar Singh from Sooch village in Bathinda said, "Our village population has been severely affected with 'Kala Pilia' for the past many years. Wastewater from homes, including unhealthy residue from home lavatories, flows into the ponds that leads to diseases."
Villagers of Dallianwala Ranuwalia in Faridkot have closed the 260-ft-deep tubewell they had dug up to dump the village sewer following a visit by the PPCB team a day after The Tribune report.
Village youth leader Nirmal Singh said, "We respect the department decision, but who will give us a solution. We are forced to live in inhuman conditions."
A senior scientist with the PPCB said, "The quantity of water in ponds is too little in comparison to the area in which it can be scattered, so apprehension of any major impact is unfounded. Draining out water from village ponds has been successfully tried at many places. The department has practical solutions in case the villagers are prepared to cough up Rs 15 to 17 lakh."
Villagers say move impractical
Several panchayats have claimed that the government move is impractical because a majority of villagers will not allow dirty pond water to flow into their fields
Top Stories