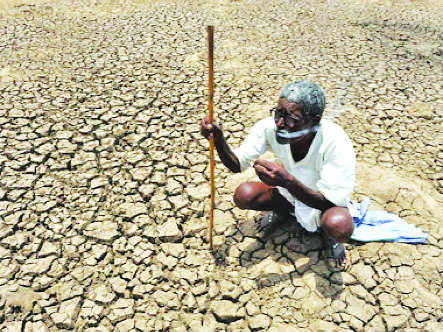 Vijay Mohan
Tribune News Service
Chandigarh, June 17
Overcast skies and intermittent showers notwithstanding, pre-monsoon rains in Punjab this year are deficient by 76 per cent so far, making it worst-hit state in the region and among top three across the country where rains have been sorely lacking.
Punjab has received a total of 4.6 mm rainfall from June 1 to June 17 against the normal of 19.5 mm for this period, according to data compiled by the Met Department. The monsoon generally arrives in the region around June 30.
The deficiency is higher than Punjab in UP and Vidarbha region in central India. While eastern and western UP are witnessing a shortfall of 82 per cent and 78 per cent, respectively, Vidarbha has a shortfall of 88 per cent.
As far as Punjab's neighbouring states are concerned, the situation is optimistic only in J&K that has a surplus of 70 per cent. Rains are deficient by 63 per cent in Haryana and 41 per cent in Himachal. Rajasthan too is witnessing a shortfall.
Of the 22 districts in Punjab, three — Mansa, Tarn Taran and SAS Nagar — have received no rain so far, according to the IMD. In six other districts, including Ferozepur, Moga, Barnala, Sangrur, Patiala and Fatehgarh Sahib, the shortfall is above 90 per cent. Faridkot, with a deficiency of 29 per cent, is the least affected.
The situation is marginally better in Haryana where Sirsa, Hisar and Mahendragarh districts have received "above average" rain. Sonepat is sole district not to have received rain so far. Kinnaur and Lahaul-Spiti have received surplus rain in HP. In Una, Hamirpur, Solan and Sirmaur districts, it is above 80 per cent.
---
Punjab 76% deficient, Haryana 63%, HP 41%
In Punjab, Mansa, Tarn Taran and SAS Nagar dists have received no rain, as per IMD
In Ferozepur, Moga, Barnala, Sangrur, Patiala & Fatehgarh Sahib, the shortfall is above 90 pc
Haryana's Sirsa, Hisar and Mahendragarh districts have recorded 'above average' rain
In Rohtak, Yamunanagar and Kaithal, rain deficiency is 96-99 pc; in Gurugram and Panipat 90 pc
In Himachal Pradesh, but for Kullu and Lahaul-Spiti, all other districts are rain deficient