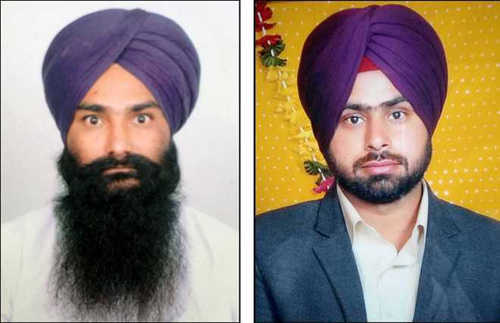 Balwant Garg
Tribune News Service
Faridkot, June 14
After arresting more than 12 Sacha Sauda dera followers in the three-year-old sacrilege case, the plan of the special investigation team (SIT) of the police to pacify the Sikh radical leaders on protest in Bargari has landed in another difficulty.
Besides the arrest of the sacrilege culprits, the protesters are demanding from the state government to prosecute all police officials who were responsible for the killing of two Sikh protesters at Behbal Kalan on September 14, 2015. The names of many senior police officials are said to be in the conundrum.
In an FIR, registered at the Bajakhana police station on September 14, 2015, the names of many police officers who were present at the police firing spot on September 14 are broadly mentioned.
Now, proceeding against its own officers to mollify the radical protesters is a difficult option for the SIT.
Many senior and junior police officials of Faridkot, Ludhiana and Fazilka districts are nervous over their name finding mention in the FIR.
This FIR was registered on the complaint of Amarjit Singh Kular, the Bajakhana SHO.
In the FIR, registered under Section 307, 435, 332, 333, 353, 283, 186, 148 and 149 of the IPC, 25, 27, 54 and 59 of the Arms Act and 3 and 4 of the Prevention of Damage to Public Property Act, the SHO had accused a large number of unknown persons for attacking a police party with kirpans and stones at a blockade at Behbal Kalan village.
Claiming that the police opened firing in self-defence, the SHO had narrated the sequence of events and mentioned the names of many police officers who were present at that time.
The officers include the then Moga SSP, Fazilka SP (Investigation), Jalalabad DSP, Ludhiana (West) ADCP, Shahnewal DSP and five police inspectors.
Besides probing the sacrilege incidents, prosecuting the real culprit of the Behbal Kalan firing, which killed two innocent Sikhs, is a challenge for the government, said Dal Khalsa spokesman Kanwarpal Singh, participating in the dharna at Bargari on Thursday.
"It is highly regretful that the political willingness of previous and present government to prosecute the guilty police officers who ordered unprovoked firing on the protesting sangat at Behbal Kalan is totally missing. Rather, both governments were trying to shield the 'state's instrument'," he said.
Top News
The former military ruler had left Pakistan in March 2016 fo...
After his failed misadventure in Kargil, Musharraf deposed t...
Military shoots down the surveillance balloon in Atlantic Oc...
The incident took place on Friday when Kambli reached his fl...
Dearness allowance for employees and pensioners are worked o...