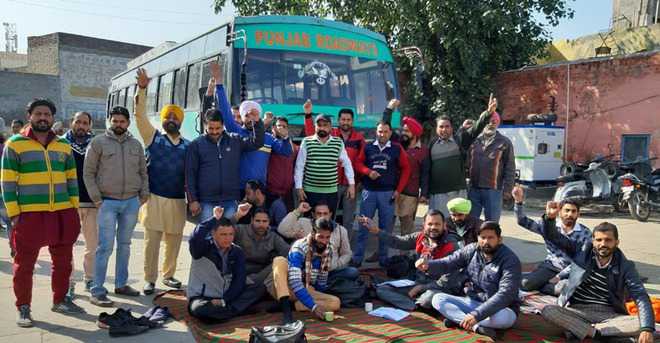 Our Correspondent
Fazilka, February 8
Punbus employees observed a strike today following a dispute between employees and a Punjab Roadways inspector in Fazilka. Punjab Roadways/Punbus Contract Workers Union sub-depot Fazilka General Secretary Anil Kumar said the employees went on strike following alleged highhanded attitude of a Punjab Roadways inspector.
He alleged that the inspector used to put pressure on Punbus staff for free travelling to his family members. They have demanded action against the inspector.
Sources said 20 buses remained off road causing inconvenience to the commuters. Long-route buses that stayed off road included Fazilka-Chintpurni, Yamunanagar, Chandigarh, Sriganganagar, Hanumangarh and Sangria in Rajasthan. The commuters on the Fazilka-Ferozepur monopoly route of Punjab Roadways were the worst hit as buses of private companies are not allowed to ply on this route.
Sources said these buses used to cover 6,000 km in a day. Today's strike causes huge financial losses to the Punjab Roadways, added the sources.